Why Xbox One Owners Won't Get A Special Star Wars Battlefront Bundle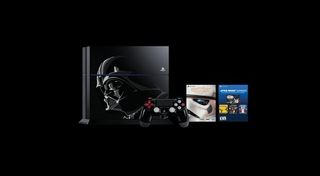 Disney and Sony have a deal where the PS4 will get a special edition bundle for Star Wars: Battlefront. According to the latest update from EA and DICE, they explain that the bundle won't be coming to Xbox One because the bundle is only available for PS4.
Gamespot picked up the news from over on the official Star Wars: Battlefront blog where a basic Q&A was posted on the site to give gamers a rundown of what to expect from the upcoming title.
The bundle pack for Star Wars: Battlefront includes a special PS4 livery of Darth Vader, a DualShock 4 controller mirrored after Darth Vader's chest plate, a copy of Star Wars: Battlefront and a voucher for four free classic Star Wars games. These games include Super Star Wars, Star Wars: Revenge Racer, Star Wars: Bounty Hunter and Star Wars: Jedi Starfighter. They certainly aren't the most iconic of titles from the brand's illustrious history of unforgettable titles. I was at least expecting X-Wing or Tie Fighter to be included... especially over the lackluster Jedi Starfighter, which was a very forgettable, uninspired space shooter.
Nevertheless, a lot of gamers were curious about whether or not you could get the controller separate from the bundle and DICE's community manager Matthew Everett mentioned that they would discuss that at a later date and that they had nothing to announce right now.
As far as the bundle being fitted for the Xbox One crowd, it was simply stated by Everett that the bundle is available only for the PS4.
They also confirm in the Q&A that indoor and interior maps will be present in Star Wars: Battlefront.
The split-screen and cooperative content are also confirmed once again, only that split-screen is limited to offline play. Speaking of offline play, there are solo and multiplayer modes available that can be played in offline mode, so opposite of Need For Speed that EA is rebooting this fall, you can actually play Star Wars: Battlefront without having to go online. I don't know how fun the game will be against bots but at least DICE still included the option, especially amidst a lot of the other features and content that won't be making a return to this year's outing that was present in Pandemic's Star Wars: Battlefront 2.
Additionally, during the Q&A posting it was revealed that if you were keen on playing those four Star Wars games included in the PS4 bundle, they will be made available separately from the bundle via digital download. According to the Q&A the four titles will be available on the PlayStation Store for download this holiday season along with the launch of DICE's Star Wars: Battlefront. They didn't reveal if those same games will come to the Xbox One, but I'm pretty sure Disney would want to reap the benefits of extra sales for older games, so I would be willing to bet that they'll be available for the Xbox One at some point.
Staff Writer at CinemaBlend.
Your Daily Blend of Entertainment News
Thank you for signing up to CinemaBlend. You will receive a verification email shortly.
There was a problem. Please refresh the page and try again.