Wii U Confirmed To Receive DirectX 11 Racer, Project CARS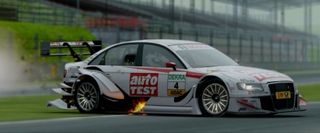 Thanks to a reader with a sharp eye who spotted something that most people would have ignored, it lead to a further investigation that turned out to be a rather fruitful venture, resulting in Slightly Mad Studious confirming some very good news for Nintendo fanboys.
That's right, Project CARS is planned to release on major gaming platforms, including the Wii U. It started when one of our readers pointed out the Nintendo logo on one of the cars in a screenshot of an early build for Project CARS. Of course, anyone can have a logo on a car but it's pretty clear that a sponsored logo from Nintendo is not going to appear in a Microsoft or Sony game, and Project CARS is scheduled to release for Microsoft and Sony's consoles.
While the logo alone doesn't seem much like hard proof, it was decided that we should simply find out if the game was in development for Nintendo's console and we contacted the head of Slightly Mad Studios, Ian Bell, who confirmed that for Project CARS, "The current plan is to ship on all major platforms", which includes the Wii U.
What's more is that this fits in well with Nintendo's claims earlier about dabbling back into the core market with titles aimed at siphoning away gamers from the Xbox 360 and PS3 and I don't see any better way than stepping up to the plate with a multiplatform racer sporting the latest in high-end visual technology.
Now before you get your hopes up and all excited and saying "Xbots and PS3tards, we told you the Wii U is super powerful!" let's keep it in perspective for a moment. The screenshots we've seen of Project CARS are all pre-alpha and there's no real telling exactly how the game will look or how it will run on the Wii U in its final form.
What's interesting is that while the Xbox 360 and PS3 versions of the game will only support DX9/OpenGL quality shaders it hasn't been confirmed or denied yet if the full DX11 equivalent features will make the cut for the Wii U.
However, as the screenshots showcase, this game is easily one of the best looking games ever designed. I'm still amazed at how an indie title can look so beautiful and densely rich with such polished atmosphere about it.
One thing is for sure, the Wii U is definitely not weaker than the Xbox 360 or PS3 if it's going to be running Project CARS.
Nintendo's new console is set for release this holiday season and Project CARS is also (loosely) slated for release by the end of this year. For more info feel free to visit the Official Website
[Update: Slightly Mad has denied responsibility for the Nintendo livery (but not the Wii U release), with Vittorio Rapa saying, "these are fan-produced liveries, they doesn't come officially from our game (and so the logos applied to them)."]
Staff Writer at CinemaBlend.
Your Daily Blend of Entertainment News
Thank you for signing up to CinemaBlend. You will receive a verification email shortly.
There was a problem. Please refresh the page and try again.