Wii U Sales Overtake PS4 In Japan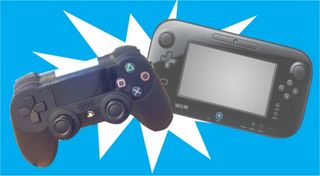 Well folks, you thought this was going to be a two-horse race between two under-roided competitors, didn't you? What you didn't expect was for a little zebra to sneak up and kick those under-roiders in the knee in order to gain an upperhand.
Gear Nuke tossed up the weekly sales figures that were printed in Famitsu for the week ending on May 24th, and the numbers are startling. Check out the figures below.
1. Nintendo 3DS LL – 20,304
2. PS Vita –13,334
3. Wii U – 8,858
4. PS4 – 7,387
5. PS3 – 7,383
6. Nintendo 3DS – 4,711
7. PSP – 1,201
8. PS Vita TV – 762
9. Xbox 360 – 104
Complain about Nintendo being a "kiddy" company all you want, but that Mario Kart 8 hype is for real.
Nintendo seems to be making a comeback in this early console war like Rocky against Drago. The juggernaut that is the PS4 isn't invulnerable, and the Wii U's sales in Japan are proving that. Of course, the Xbox One isn't even on the radar in this case... literally; it's not available in Japan right now.
Those stats basically show that the Wii U – even in the face of inFamous: Second Son launching in Japan for the PS4 – is picking up some serious momentum as it heads toward the release of Mario Kart 8, like Lindsay Lohan's career is picking up momentum to head into porn.
Previously, Gear Nuke's report from two weeks ago showed that the Wii U had nearly gained parity in sales within the eastern region, trailing the PS4 in hardware by only 51 units. Can you believe that? At this junction, the Wii U has moved up over the PS4 by more than 1,400 SKUs.
I think this calls for an Iwata showdown, taking down the big boys in a way that only Nintendo could.
This shouldn't be too surprising given that all the signs have been pointing toward this momentous achievement by the Big 'N', with Mario Kart 8 becoming a best selling item on Amazon, even selling out of pre-orders shortly after becoming available.
Earlier in the year you might remember that Nintendo managed to best the PS4 in sales on Amazon Japan like Floyd Mayweather beat out Marcos Maidana. The only difference here is that Nintendo is coming back for the crown; they have a lot of catching up to do and a lot of sales ground to cover.
With the Mario Kart 8 bundles moving faster than white rocks off a silver platter at a Rob Ford get together, I would imagine that Nintendo will want to capitalize on this opportunity like Democrats would capitalize on anti-gun laws following a typical mass shooting in America.
Hopefully, Nintendo has big things in store to keep up and maintain their momentum following the release of Mario Kart 8 this week. If you want to get in on the pre-order bonuses and deals before they're all gone, you might want to pay a visit to the official Nintendo website for more info.
(Main image courtesy of B-Ten.com)
Your Daily Blend of Entertainment News
Staff Writer at CinemaBlend.