Mario Kart 8 Becomes Wii U's Best-Seller On Amazon, Passes PS4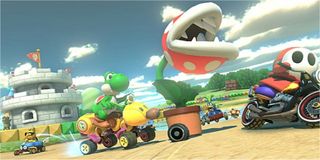 In the hourly best-seller list in the video game section, Mario Kart 8 has surpassed the PlayStation 4. The title – in pre-orders alone – has also become the best selling game for the Wii U on Amazon.
A lot of this is in good part to the elevated hype that Nintendo is rolling out for Mario Kart 8 as if Don King was a sponsor in the Hunger Games. The title's gameplay is already being hailed as an excellent treat for newcomers and nostalgia-ridden gamers alike.
As the image below shows, the Wii U's prime-time kart-racing exclusive has become the best selling game on Amazon for the Wii U.
Mm, mm, mm. Look at all that juicy goodness; eating up the sales chart like Steven Seagal at an all-you-can eat shrimp buffet. That's what I'm talking about.
The game has steadily been climbing through the charts since it was revealed that the game was available for pre-order on Amazon. This kicked into play at first on Amazon Japan, where a Nintendo Direct directly put the hype so high for Mario Kart 8 that it actually surpassed the PS4 on the pre-order charts.
That news was followed by reports that the game had sold well enough to actually sell out on Amazon. That's a pretty impressive feat for a game on a system that's supposedly "doomed".
And even though the game may not be 1080p at 60fps, as some reports had indicated earlier, it does show that it's one of the most feature-rich titles coming to the market. Sporting 32 playable tracks, complete character and vehicle customization features, four-player split-screen and up to 12 players online; Mario Kart 8 is shaping up to be one of the biggest first-party exclusives launching this year.
In fact, the hype is starting to reach a fever pitch, loud enough to reverberate in the ears of the competitors' fanboy armies, causing an echo and vibration to stir through their eyes, pouring forth enough tears to fill each condiment jar on every table at a Red Lobster... because fanboys love seafood.
If you're unsure as to what I'm talking about, lo and behold the Wii U's exclusive passing by of the PlayStation 4 on the road to excellence.
Look at all that awesome. Flowing forth like Nintendo has a hand on a nozzle that lets them spill it out like a hose watering a garden.
Previously, Mario Kart 8 was just behind the PS4, but it's slowly been moving up the ranks, especially after joining Amazon's Most Wished For Video Game list.
It's easy to see why the game is moving up the charts, though. All the videos, the promo pieces, the features... it's being combined together to create a truly epic gaming experience come May 30th. In fact, Best and GameStop have already opened up pre-order bundles for Mario Kart 8 and the Wii U.
Nintendo may not have an E3 briefing on stage, but they're still bringing the fire this summer. Oh yes, excellence awaits come May 30th... excellence awaits. Now it's just a matter of asking if gamers' bodies are ready?
Your Daily Blend of Entertainment News
Staff Writer at CinemaBlend.