Wind Waker HD, Monster Hunter Discount, More Hit Nintendo This Week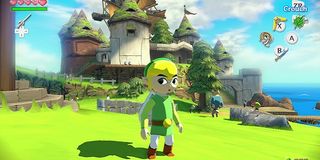 It's an absolutely massive week for digital downloads over in the Nintendo camp with some of gaming's biggest heroes and nastiest monsters getting a moment in the spotlight. Mario and Link are accounted for on the Wii U with soccer's greatest stars shaking things up on the 3DS. And then there's that half-off sale on the true "big game" adventure, Monster Hunter 3 for both platforms.
I've been known to call Nintendo out for being the slowest of the Big Three to get meaningful content out on their digital platforms. But I've got to give credit where it's due this week, as Nintendo has put together an absolutely dynamite lineup of games and discounts on both the Wii U and the 3DS Virtual Console and eShop.
We might as well start at the top of the mountain with The Legend of Zelda: Wind Waker HD for the Wii U. Available starting today, Wind Waker is held by many to be one of the best games in the storied series. It's cell shaded graphics lend themselves well to an HD remake, meaning that you'll get all of that familiar top-notch action RPG gameplay, only now it'll look better than ever before. Other Wii U enhancements include an always available map and inventory displayed on the Wii U GamePad controller, unless of course you just want to play the entire game on the handheld device.
If you're not in the mood for questing with Link, 1) What's wrong with you, and 2) Then maybe diving into some lighthearted comic book action will be more your speed this week. Scribblenauts Unmasked: A DC Comics Adventure takes all the things you love about the popular "write it into existence" series, slaps it into a spandex onesie and throws a cape over its shoulders. Series protagonist Maxwell must join the like of Batman and Superman in order to save the DC Comics Universe from being overtaken by legendary super villains.
In case you'd rather go super old school, then this week you'll be able to jump into the game that started it all for Nintendo as the original Super Mario Bros. is finally available on the Virtual Console. I'm not sure why it took a year for the brothers Mario to return home, but I suppose it's better late than never.
Let's head on over to the 3DS, shall we? For starters this week, FIFA 14 arrives on Nintendo's portable console, complete with more than 30 licensed leagues, 50 tournaments, 500 clubs and 12,500 players for you to experience. You'll have access to proper 11-vs-11 matches, or even change things up a bit with special 5-vs-5 street matches.
Scribblenauts Unmasked also arrives on the 3DS this week, alongside first-person brawler Rage of the Gladiator, old school platforming adventure Solomon's Key, the fast and furious AiRace Speed, the fantastic Star Wars Pinball, as well as Hakuoki: Memories of the Shinsengumi, Mahjong 3D, Shifting World and a Tales to Enjoy game for The Ugly Duckling and Three Little Pigs.
Finally, for those of you who have yet to dive into the massive world of Monster Hunter 3, this is your lucky week. Both the Wii U and 3DS digital versions of the game are on sale for an extremely limited time. Between now and Sept. 22 (just two days), you can grabe the home console version of the game for $29.99 and the portable version for $19.99.
Staff Writer for CinemaBlend.
Your Daily Blend of Entertainment News
Thank you for signing up to CinemaBlend. You will receive a verification email shortly.
There was a problem. Please refresh the page and try again.