Witcher 3 Adds Free Quest And Costume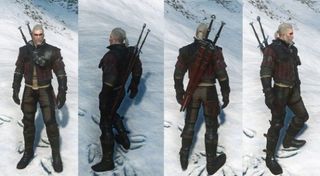 The Witcher 3 has a ton of new free content on the way and CD Projekt Red has already released a couple of new goodies for gamers in the form of a new quest and a brand new costume for Triss Merigold.
PC GamesN makes it known that GOG.com and Steam are already updating the clients for gamers who own The Witcher 3: Wild Hunt with the new content.
The new costume for Triss gives her a gold and green dress that looks like something that would be present at the Met Gala Ball. The mission also unlocks some new garbs for Geralt. The new quest is called Scavenger Hunt: Wolf School Gear. If players complete it after setting out to gather the necessary supplies and turn it into something wearable, they'll be rewarded with the new Wolf School Witcher gear.
As noted in the PC GamesN article, CD Projekt Red still has plans to release more DLC for The Witcher 3. They have six DLC packs on the horizon that will all drop throughout the summer for diehard gamers.
The Witcher 3 had a slightly rocky start when it came to optimizations and graphical performance, but the game was a critical and financial success right out of the gate. It sold a million copies in pre-orders alone and followed up with more than 4 million copies sold within two weeks of being released. Many analysts expect the game to move 7 million copies before the year is out.
CD Projekt Red has been committed to churning out as much content as possible for the game to keep the fans happy and from people becoming disgruntled with DLC campaigns.
In today's industry there are a lot of AAA titles that release with pre-order DLC or have on-disc DLC. There is also the issue of some games not knowing how to curtail their DLC and having hundreds of small pieces of content, sort of like Borderlands 2, which really cranked up the numbers on the accessories and whatnot. Saints Row IV also had quite a bit of DLC, including DLC cheat codes, which definitely rubbed some people the wrong way.
Since CD Projekt Red runs GOG.com they know what the audience wants and they want to keep games as pure as possible when it comes to purchasing them and getting everything from the start.
Some publishers have argued that the rising development costs requires more pre-order bonuses and DLC campaigns, but technically no one is actually asking them to spend $100 million, $250 million or $500 million on what usually amounts to mediocre games (with the one exception being Grand Theft Auto V).
Anyway, you can look for more free downloadable content to roll out for The Witcher 3 throughout the summer. The company plans on supporting the game all through this year and part of the next, as they'll soon be prepping to dive head first into the development of Cyberpunk 2077.
Staff Writer at CinemaBlend.
Your Daily Blend of Entertainment News
Thank you for signing up to CinemaBlend. You will receive a verification email shortly.
There was a problem. Please refresh the page and try again.