The Witcher 3 Customization Details Revealed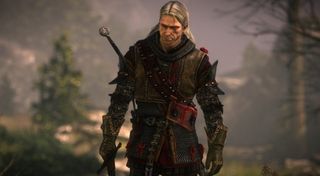 The 30 minute video above from the EGX 2014 event covers a lot of the gameplay from The Witcher that we've already seen. However, the video of the game isn't what was important, the Q&A session that took place after the on-stage gameplay demo is where all the hotness was contained.
As reported by DSO Gaming, CD Projekt's Damien Monnier took to the stage at EGX to talk up some of the new features gameplay mechanics refined for the Wild Hunt.
Monnier talks a lot about the news of deeds – or rather, he actually answers quite a few questions related to the news of deeds. See, in The Witcher 3 everything you do carries cost and consequence with it. This means that if you decide to kill a big, ugly, bad, citizen-murdering monster, news about that deed will travel far and wide throughout the land. It'll start in the town where you saved them from the monster and continue to fester and grow throughout your journey; it's almost similar to Fable in that regards.
However, the flip-side is also true: evil deeds and reckless murdering will land your name in the history books of hatred with most townsfolk. In the same way that all your good deeds and kitten-saving will have rewarded you with adoration and fame amongst the villagers, your malignant behavior will also garner you plenty of troubles throughout your travels.
Unlike Fable, however, Monnier points out that players won't see a change in Geralt's appearance simply based on his actions (not that that actually happened in the way that a lot of people think in Fable, but the point still stands).
If the lack of appearance manipulation being affected by a good and evil alignment is disappointing to you, cheer up good buck, Geralt is still susceptible to the wiles of your customization desires. Damien points out that players will have more options to customize and modify the look of The Witcher, including but not limited to modifying Geralt's beard and his hair. However, details on the actual customization was kept rather limited.
Monnier did mention that armor changes will be available a-plenty, as Geralt will be able to upgrade his digs and modify how he presents himself to the world. What's more is that players will be able to customize and craft their own armor this time around, so some armor that shows up on the white-haired wonder will only be present because players craft it. This also means that there's a bit of a search-and-find element to uncovering, unlocking or gaining certain armor types.
Finally, Monnier quickly covered the game's island travel system, which includes the ability to hop in a schooner and sail to one of many different islands, or workout Geralt's upper body by having him swim between isles. The interesting thing about it is that supposedly there are sea creatures to watch out for. So that adds a bit of interest to the whole affair.
You can look for The Witcher 3 to launch next February for the PC, PS4 and Xbox One. Need to learn more? Feel free to hit up the official website.
Your Daily Blend of Entertainment News
Staff Writer at CinemaBlend.