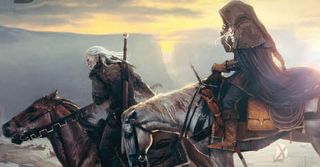 Today CD Projekt RED confirmed that they're developing The Witcher 3. The Witcher 3: Wild Hunt will continue the adventures of Geralt in 2014 on PC and "all high-end platforms available" - presumably the Xbox 720 and PS4.
Wild Hunt is featured in the March issue of Game Informer. In the article (via Gematsu), CD Projekt reveals that the game world is 20% larger than Elder Scrolls V: Skyrim's world and 40 times larger than The Witcher 2's world. It takes 30-40 minutes to go from one end of the map to the other on horseback. There are no loading screens to bother players while traveling. CD Projekt wants players to explore and find adventures, just as they would in playing a game like Skyrim.
The article also mentions different level of narrative. The first level is the game's abundant collection of side activities, such as crafting and optional quests. The article says that there are over 100 hours of "hand-scripted" quests. The next level is the political situation of the game world, resolved through area-specific core plotlines. The third and final level is Geralt's personal storyline, including his search for his loved ones and the "chase of the Wild Hunt." Throughout all these quests, Geralt will have to make decisions with consequences that affect the rest of the game.
CD Projekt is planning to fix a few issues with the previous games. For example, inventory management is being reworked. Boss fights will no longer be tightly scripted. In fact, enemy A.I. across the board is being rebuilt from scratch.
Witcher 3 will utilize the studio's new REDengine 3 technology. This engine is an updated version of the tech seen in previous Witcher games. The seamless open world is just one feature of this engine. The world will also have dynamically generated weather that plays an important role in gameplay. Character movement will be more realistic as well, with 96 combat animations compared to Witcher 2's 20.
Interestingly, Game Informer says that Witcher 3 will be the first game to feature REDengine 3. That suggests that the game will be released before Cyberpunk 2077. Cyberpunk 2077, a gritty near-future RPG, is currently undated.
Game Informer will be providing fresh coverage on the game throughout the month. The trailer below provides a peek at this coverage. The cover art for GI's latest issue, featuring Geralt and a mysterious companion, is also below (click it to see the full version).
Image 1 of 1
Your Daily Blend of Entertainment News
Staff Writer at CinemaBlend.