The Witcher 3: Wild Hunt Gets Another Delay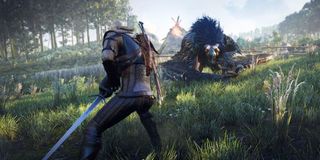 Patience is one of the best weapons a true hunter can wield, and it's exactly what you'll need if you've been looking forward to cruising around with Geralt in The Witcher 3: Wild Hunt. In an open letter to series fans, CD Projekt Red today announced that the game will be pushed back by three months.
Delays aren't exactly uncommon in the world of video games, especially for titles as massive as The Witcher 3. This game's been a long time coming, shown off at two E3 press conferences already and originally slated to finally release in February of 2015. It looks like we'll all have to wait a bit longer to try out those new tracking skills, as the Wild Hunt won't be kicking off until May 19.
Keep in mind that, when I say The Witcher 3 is big, I'm talking in terms of both size and concept. Not only is the free-roaming world absolutely massive, but the plot and interconnecting side missions look to be on an epic scale, too, with your decisions and actions in-game affecting how the world will evolve. Ignore a small burg being overrun by bandits, for instance, and you may one day return to the area to find little more than the scorched skeletons of buildings. Even hunting is an involved process, requiring the player to utilize various tracking abilities to actually find their target beast.
Considering that type of scope, I'm not surprised to hear that The Witcher 3 is being delayed, even for as short a period as three months. I'm typically of the mind that I'd rather a game work properly than be fixed sometime down the road, so my vote is that CD Project Red takes all the time they need to pull of The Wild Hunt the way they originally intended.
And, according to an open letter from the Board at CD Projekt SA, that's exactly what they're aiming to do.
"Ever since we started working on The Witcher 3: Wild Hunt, we knew it would be an ambitious game," reads the statement. "We wanted, and still aim, to give you an incredible experience, an epic adventure in a vast, completely open fantasy world."
And that's exactly what was on display during the past two E3 showings, so here's hoping that the team has remained on that same track. The letter goes on to discuss the sheer size of the game and, with only a couple of months before the original release date, the team has decided to put in a bit of extra work in order to fine-tune all of the moving bits and baubles. To their credit, the team seems awfully sorry about it.
"We owe you an apology," continues the statement. "We set the release date too hastily. It's a hard lesson, one to take to heart for the future. We know what we want to do to make Wild Hunt one of the best RPGs you will ever play and we continue to work hard to achieve just that."
Staff Writer for CinemaBlend.
Your Daily Blend of Entertainment News
Thank you for signing up to CinemaBlend. You will receive a verification email shortly.
There was a problem. Please refresh the page and try again.