Witcher 3 Xbox One Patch Will Lock Framerate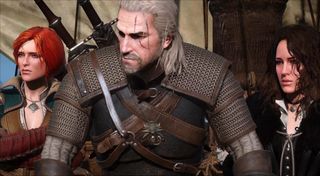 One of the big complaints about The Witcher 3: Wild Hunt on home consoles and PC is that the frame-rate for the game is inconsistent. For PC gamers it's a desperate attempt to optimize their rig to get the game stabilized at 60fps; for console gamers it's a desperate plea to get a patch to stabilize the game at 30fps.
Eurogamer spotted a tweet from CD Projekt Red community coordinator Marcin Momot, who made it known that a patch was inbound to help fix up the Xbox One's frame-rate issues with The Witcher 3 by implementing a 30fps hard-lock.
This arrives after the Digital Foundry breakdown of the game found that the Xbox One suffered from some instability and inconsistency in the frame-rate department, arguably one of the more important aspects of a game's performance.
The upside was that while the PS4 version of The Witcher 3 runs at 1080p and the Xbox One version runs at 900p, the Xbox One was able to squeeze out a few more frames over its counterpart, moving between 25fps all the way up to 41fps on occasion. However, bouncing between a scale of 16 frames per second is what creates the inconsistent display and can result in frame stuttering, which is what creates the instability.
You'll sometimes notice the stutter ever so slightly in the video below that was captured during Digital Foundry's performance analysis, mostly around the segment around 1:29.
It's interesting because the PS4 hovered around the 30fps but the Xbox One was able to exceed it. This is, in a way, a good thing. CD Projekt Red has plans to hard-lock the frame-rate of The Witcher 3 on the Xbox One to improve the frame-rate stability.
This is a good thing for Xbox One owners because it should make the game a lot more stable and smooth when playing. A similar issue is plaguing both the Xbox One and the PS4 versions of Project CARS, but that was to be expected given the high-end graphics fidelity present in Slightly Mad Studios' premiere eighth-gen racer. PC gamers have had to deal with slightly different problems, mostly in regards to a spat between AMD and Nvidia when it comes to GameWorks, which has created it's all little subset of drama.
Nevertheless, the frame-rate lock for The Witcher 3 on the Xbox One is set to arrive in the upcoming patch. Gamers should see a difference in performance (or at least the stability of performance) when patch 1.03 arrives.
You can keep an eye on the progress of updates and changes made to the game by paying a visit to the official website.
Your Daily Blend of Entertainment News
Staff Writer at CinemaBlend.