You Can Now Get 3 Legendary Pokemon For Free, Get The Details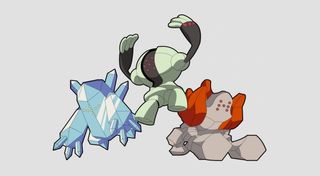 Nintendo is continuing their monthly tradition for this year of giving away free legendary Pokemon in various Pokemon games as part of the 20th anniversary celebration for the series. The three new Pokemon that can be acquired includes Registeel, Regice, and Regirock.
Game Informer did a really quick rundown on the news, explaining how gamers who are subscribed to the Pokemon Bank service offered by Nintendo for $4.99 a year, they can head to the in-game bank and get their hands on the three legendary Pokemon.
The Pokemon are available for Pokemon X, Y, Omega Ruby and Alpha Sapphire. This will enable gamers to add these three rocky monsters to their collection without having to hunt them down in the wild. And speaking of the wild... the legendary Pokemon you get from the bank will have special "Hidden Abilities" attached to them that were not present if you managed to actually capture them while out and about on your journey.
The Pokemon Bank was introduced for the Nintendo 3DS as a way for gamers to store and deposit their Pokemon on private boxes on the net. For the annual $4.99 a year gamers can transfer, move around, and store their Pokemon across various Pokemon games. It might seem like a steep price for such a simple feature, but with the added benefit of now receiving three free legendary Pokemon just for having the service the benefits are now really starting to look up.
However, if you aren't keen on paying for something you likely won't ever use to any great extent, they do have an alternative for Nintendo 3DS owners who aren't subscribed to the Pokemon Bank. In fact, you can get a free Celebi as a Mystical Gift for the free download of the month.
Nintendo has really been going all out in promoting Pokemon due to the 20th anniversary, in which they're utilizing all of 2016 to throw out as much content as humanly possible. This includes a brand new release on the Wii U with Pokken Tournament, which is set for release on March 18th. The fighting game from Bandai Namco has received a lot of positive praise leading up to release. Nintendo also announced that they have Pokemon Sun and Moon on the horizon for the Nintendo 3DS, both of which are set to release later this year.
Fans of the monster-collecting series are definitely getting their fill of Pokemon content for this year. There's also the new mobile game Pokemon GO on the horizon, which takes the series into the realm of augmented reality.
While some of the big new games are still a ways away, you can still get your hands on the free legendary Pokemon right now thanks to Nintendo tapping into their generosity and offering gamers the three free legendaries.
You will have up until October 31st to get Registeel, Regice and Regirock for free. So even if you don't have a Nintendo 3DS you can take your time to save up and get one in order to get the three free legendary Pokemon.
Your Daily Blend of Entertainment News
Staff Writer at CinemaBlend.