World Of Tanks Finally Rolls Onto PlayStation 4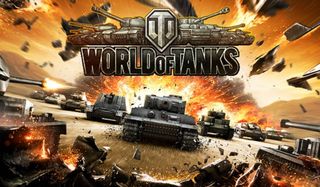 At long last, World of Tanks's unique brand of rolling multiplayer combat has arrived on the PlayStation 4, becoming the latest in a growing line of free-to-play games to grace Sony's system.
While Wargaming's 15v15 tank combat game, World of Tanks (opens in new tab), has been going strong on PC for a few years now, the game only made the leap to consoles last year, launch as a timed exclusive for the Xbox One and Xbox 360. A year or so has passed and now Wargaming's grand battle game can roll on to other pastures…before shelling the hell out of them.
World of Tanks launched for PlayStation 4 yesterday and, based on the buzz from various forums, the game is running as smooth as ever. While there's certainly a huge degree of strategy for those who want to dig into the intricacies of tank warfare, the basic flow of the game is that 30 guys and gals jump behind the controls of tanks and then do their best to out-maneuver and out-gun their opponents. You've got three main classes of tanks to choose from, including the fast but vulnerable small tanks, well-rounded medium tanks and slow but brutal large tanks.
The best part of World of Tanks is that these aren't fictional vehicles. The team at Wargaming puts a lot of research into building their tanks, which are basically vertical replicas of the real things. You know how all those guns in Call of Duty are made to look, fire and sound like the real thing? Well, the same thing goes for these treaded brutes.
Like WarThunder, Warframe, Loadout and Blacklight: Retribution before it, World of Tanks joins the PS4 library as a new free-to-play game. In other words, everyone has the same modes, maps and a starting garage of tanks to choose from, and then they can play the game as much as they like. If you're picking up what the game is putting down, though, you can drop some money here and there to get yourself extra campaigns or loads of new tanks pulled straight out of history. You don't actually have to pay a dime, though. It'll take a lot of work, but most of the important stuff in World of Tanks can be purchased with in-game currency that you build up over time.
In total, World of Tanks offers a whopping 130 vehicles to cruise around in, hailing from the USA, German, China, the USSR, etc. As an added bonus, anyone who downloads and logs into World of Tanks through the end of January will receive a free T1E6-PS US Premium Light Tank with special camouflage. And if you feel like dropping some money, there are various Founder's Packs available at different price tiers that include more premium vehicles and in-game content. And while you don't actually need PlayStation Plus to play World of Tanks, having said account will grant you additional launch goodies.
Staff Writer for CinemaBlend.
Your Daily Blend of Entertainment News
Thank you for signing up to CinemaBlend. You will receive a verification email shortly.
There was a problem. Please refresh the page and try again.