XSeed Games Bringing Corpse Party To PSP This Fall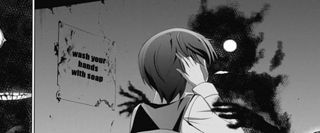 If you're a fan of Japanese high-school students trapped in perilous situations, such as Persona or High-School of the Dead, then you just might like the new Japanese game featuring high-school students in peril called, Corpse Party.
As stated in the press release by Jun Iwasaki, President of XSEED Games…
Gamers will play students from the Kisaragi Academy High-School, where it's a matter of trying to do whatever it takes to survive the nightmarish experience of ghouls, ghosts and the walking dead.
The game sports full Japanese voice-overs, so at least the audio will be decent and this will also be combined with full 3D surround sound support, so gamers will be as immersed into the horrors of the High-School corpse party just like the protagonists in the game.
To ensure a high amount of replay value, player decisions and choices will determine the outcome of the experience, enabling gamers to replay through to change or alter the course of the story.
Team GrisGris' indie game, Corpse Party, will be available exclusively on the PSP via digital download this fall. You can learn more about the game by heading to XSeed Games' Official Website.
Staff Writer at CinemaBlend.
Your Daily Blend of Entertainment News
Thank you for signing up to CinemaBlend. You will receive a verification email shortly.
There was a problem. Please refresh the page and try again.