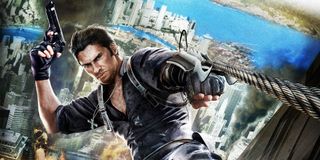 Xbox Live Gold members will be able to download four games across Xbox One and Xbox 360 in June. Here's what you'll be getting for your subscription starting next week:
Massive Chalice ($19.99): Available from June 1-30 on Xbox One
Pool Nation FX ($13.99): Available from June 1-30 on Xbox One
Just Cause 2 ($14.99): Available from June 1-15 on Xbox 360
Thief ($29.99): Available from June 16-30 on Xbox 360
Massive Chalice is the latest game from Double Fine Productions, developer of Broken Age, Brutal Legend and others. The player character is an immortal ruler who must wage a 300-year war against an enemy known as the Cadence. Players will command teams of heroes in battles against the Cadence's demonic forces.
While the player's character is immortal, their troops aren't. If they die, they'll be gone for good. These heroes can also die of old age in time so the player must arrange marriages for them that will result in powerful offspring. Crafting and research systems will allow players to unlock powerful gear and abilities for their forces.
The other Xbox One freebie, Pool Nation FX, has been available for awhile now. It's billed as the "Ultimate Pool Simulator." The realistic billiards game lets you watch or participate in matches online. You can also create custom rule sets or Trickshots if you're tired of the standard pool experience.
Just Cause 2 is an open-world game set on an island in Southeast Asia. The player is Rico Rodriguez, a covert agent trying to overthrow the dictatorship there. They can quickly traverse the game's 400 square mile world by using their grappling hook, which allows them to hijack aircraft in mid-air. They can also use the grappling hook in conjunction with a reusable parachute to glide across the countryside.
Xbox 360 owners are also getting Thief. This reboot of the popular stealth series lets players become master thief Garrett. They'll use a range of weapons and gadgets to pull off heists throughout the City. The reboot also introduces a new Focus mechanic that lets players spot key objects in the environment, slow down time and more.
I'm not sure why Thief is free on Xbox 360 but not on Xbox One, as the game was released on both consoles. If you're willing to give it away on one platform, why not the other too? The same thing happened when Thief was available on PlayStation Plus though so it's probably Square Enix's call.
Games with Gold freebies are available to all Xbox Live Gold members. However, you'll need to maintain an active Gold subscription to keep having access to the free Xbox One titles. If you don't own an Xbox One yet, you can still add XB1 games to your account in the meantime.
Your Daily Blend of Entertainment News
Staff Writer at CinemaBlend.