Xbox One Price Cut Is Permanent, 1TB Model On The Way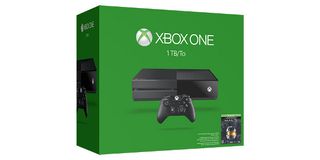 Microsoft announced today that they're going to start selling a 1TB model of the Xbox One. If you're on a budget, though, you can still get the standard 500GB model.
"Xbox One 1TB consoles will start shipping to retailers June 16 in the United States and select markets later this month and will be available starting at $399 USD ERP," said Microsoft's Larry Hryb on Xbox Wire (opens in new tab). "We're also pleased to announce that starting today, the $349 USD price on all standard Xbox One 500GB consoles will be permanent in the United States and select regions."
The $350 price tag for the 500GB model debuted during last holiday season. Microsoft then brought that price back in January and kept it. They framed it as a promotional offer at the time but I'm glad they've finally admitted it's a permanent price cut.
We've seen the 1TB Xbox One before. The Call of Duty: Advanced Warfare bundle came with one. However, this is the first time Microsoft will be selling this model on its own.
Hryb says that the 1TB Xbox One will come with a free copy of Halo: The Master Chief Collection for a limited time just like the older model. It will also ship with a redesigned wireless controller, first outed last week. The biggest change for the controller is that it now comes with a 3.5mm stereo headset jack. Microsoft's made a few other performance tweaks as well.
"We've also improved the quality of audio coming through the controller and increased the maximum audio volume on headsets used with this controller, based on fan feedback. All existing controller accessories will work with the updated controller, including the Stereo Headset Adapter for those who want the convenience of fingertip control for their audio. In addition to audio improvements, we've fine-tuned the bumpers for more consistent performance anywhere along the full surface of the bumper."
"And we've enabled wireless firmware updates on the updated controller which eliminates having to connect the controller via USB cable to receive updates."
The redesigned Xbox One controller will be sold as a standalone product as well. You can opt for the standard black controller or get the Xbox One Special Edition Covert Forces Wireless Controller with a silver-and-black camo paint job.
Microsoft also threw a bone to PC gamers today. Starting this fall, they'll be able to buy an Xbox Wireless Adapter for Windows so they can use their controller on Windows 10 PCs, laptops and tablets. Up until now, PC gamers have only been able to used wired XB1 gamepads. The Xbox Wireless Adapter is priced at $24.99 by itself and at $79.95 when bundled with an Xbox One Wireless Controller.
Image 1 of 3
Your Daily Blend of Entertainment News
Staff Writer at CinemaBlend.