Xbox One Now Comes With Free Halo Games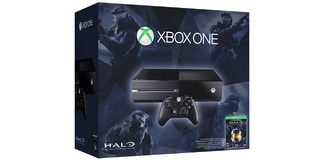 Gamers who purchase Xbox One will now get four free games with it. Microsoft announced today that they're bundling Halo: The Master Chief Collection with their console starting this month.
The Xbox One Halo: The Master Chief Collection Bundle comes with the standard black model of the console, a wireless controller and a digital voucher for Halo: MCC. The bundle costs $349, the discounted price that Microsoft introduced for the holiday season and then brought back in January.
The Master Chief Collection includes remakes of Halo: Combat Evolved, Halo 2, Halo 3 and Halo 4. Combat Evolved's campaign features the full visual overhaul from the Anniversary Edition previously released on Xbox 360. For the Master Chief Collection's release, 343 did a similar makeover for the Halo 2 campaign.
"Halo: The Master Chief Collection allows fans to play all 45 campaign missions, plus more than 100 multiplayer and Spartan Ops maps, in 1080p at 60fps," Microsoft reminds us on Xbox Wire. "The bundle also comes with access to the new live-action digital series from executive producer Ridley Scott, Halo: Nightfall. This jam-packed offer gets you four great games in one bundle, and provides tremendous value for fans of Halo and the Master Chief."
The offer might be more tempting if Halo: The Master Chief Collection worked properly. The Master Chief Collection's multiplayer was a mess at launch, with many players unable to find matches. 343 Industries has released several patches since then to make multiplayer more stable but it's still an ongoing battle. Last week's patch included fixes for parties and matchmaking.
That said, you're getting these games for free. Even if the multiplayer isn't flawless, you're still getting several worthwhile campaigns. The abundant single-player content of Halo: MCC at least ensures you'll have something to do while you wait for multiplayer to improve.
It could be worse: you could be one of the poor schmoes who bought The Master Chief Collection at launch. They paid $60 for a far less stable game a mere four months ago. I suspect they're not too happy about the game now being free for new Xbox One buyers. It's just one of many examples of early adopters getting the short end of the stick.
The Xbox One Halo: The Master Chief Collection Bundle is available in "most regions where Xbox One is available" from March onward. Microsoft doesn't mention how long this bundle will be available. They also haven't mentioned when, if ever, the price tag for Xbox One will jump back from $350 to $399.
The $350 price for Xbox One gave Microsoft a definite lift during the holidays, allowing the console to beat PS4 in monthly sales here in North America for November and December. The fact that PS4 regained its crown in January may have been a factor in Microsoft's decision to start bundling the Halo games with Xbox One.
Your Daily Blend of Entertainment News
Staff Writer at CinemaBlend.
Your Daily Blend of Entertainment News
Thank you for signing up to CinemaBlend. You will receive a verification email shortly.
There was a problem. Please refresh the page and try again.