Xbox One's Ryse: Son Of Rome Downgraded From 1080p To 900p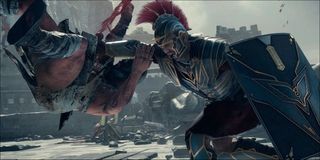 Remember how everyone exclaimed that the Xbox One's performance at E3 was all Xbox? That those high-end PCs dictating the smoke and mirrors show that gamers walked away with both impressed and enamored? Well, all that high-end marketing display from E3 was just that... a marketing display.
After Microsoft recently restructured everyone was expecting great things, but in reality it's all about expecting realistic things... such as realistic performance margins and output for upcoming Xbox One games. GamePur caught a tweet from Aaron Greenberg, the Chief of Staff for Devices and Studios Group at Microsoft, who recently stated that...
The bit of confirmation from Greenberg that Ryse is upscaled from 900p is a bit of downer, especially coming off of Unscripted 360's earlier story about Ryse running at 1920x1080p, in which Greenberg had previously stated...
During E3, all the games were running at around 60 frames per second and in high resolutions to showcase the game's graphics fidelity and smooth play-rates. However, some of the titles turned out to be running on Windows 7 PCs with Nvidia GTX 780 cards.
Many defenders came to the aid of the Xbox One, claiming that it was only Lococycle running on high-end PCs and everything else was native to the XB1's hardware. However, that wasn't quite the case when Microsoft revealed that they were using those high-end PCs in place of actual development kits.
While some people would brush this off as no big deal, it was speculated in the previous articles that the representation of the games at E3 could vary greatly when it comes time for launch. In this regard, we're starting to get some confirmation – such as with the tweet from Greenberg – that Ryse may not perform the way some expected it to, in comparison to its E3 showing.
Nevertheless, a downgrade from 1080p to 900p (or 1600x900) with the 900p upscaled to 1080p isn't too bad. It's doable. So long as Ryse maintains 60fps I think that's a fair enough trade for a launch title, especially considering that Ryse was once an Xbox 360 Kinect exclusive and Crytek had to gut and completely redo the game for the Xbox One.
You can look for Ryse: Son of Rome to launch with the Xbox One in 13 regions starting November 22nd. For more information on the game feel free to visit the official website.
Your Daily Blend of Entertainment News
Staff Writer at CinemaBlend.