E3 2011: Ryse, Kinect Fighting Game Coming To Xbox 360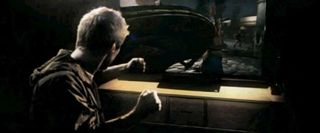 Microsoft Game Studios and Crytek have teamed together to bring gamers a not-so-casual Kinect game called Ryse. Gamers will pick up sword and shield and battle through hordes of enemies using all those fancy Spartan moves that Gerard Butler used in the movie, the 300.
By "fancy Spartan moves", I'm talking about the "This is Spartaaa!" pit-kick, a headbutt, shield strike, and a "look at your own guts" sword slash. That's right, all the kick butt moves and tactics usually associated with hack-and-slash games are available and ripe for the using in this Kinect-powered action title.
Like all games announced at E3, some footage of the gameplay is up and available for viewing, below. For more info on this Crytek-powered fighting game, be sure to visit the Official Website.
Your Daily Blend of Entertainment News
Staff Writer at CinemaBlend.