The Xbox Store Just Launched A Huge 17 Day Sale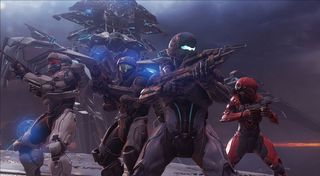 Microsoft has officially started their 17 day holiday sale that will run up to the end of the year. But even then, the year-end sale will carry over into an additional new year sale. For now, Xbox One and Xbox 360 owners will be able to take advantage of digital discounts at up to 75% off select titles.
The deals and details for the deals are posted up on Major Nelson's blog, where Microsoft has a complete list of all the digitally available games that will be discounted throughout the 17 day deal. They offer a teaser video of some of the games available that will be discounted that you can check out below.
Larry "Major Nelson" Hryb will be posting the daily deals over on his Twitter account.
The games being discounted aren't just no-name indie titles or games which are a decade old. Microsoft is discounting some of their big guns, such as the Rare Replay that contains 30 games from Rare's illustrious history of titles, Crystal Dynamics' Rise of the Tomb Raider, and even 343 Industries' Halo 5: Guardians.
Keep in mind that the AAA titles that have recently been released are only being reduced by 10% or 20%. It's not big but they're still being discounted.
Some other titles are receiving more generous discounts, such as Borderlands: The Handsome Collection, which contains all of the previously released Borderlands first-person shooter content in one big package for Xbox One owners. Gearbox Software's multi-million selling property will be discounted at more than half off during the 17 day countdown.
Now, keep in mind that some games being discounted during the countdown will have specific discounts based on those who are subscribed to Xbox Live Gold. The "Deals With Gold" have higher percentage discounts and their prices slashed to a higher extent. It's Microsoft's way of trying to entice people to subscribe to Xbox Live to get in on those deals.
Some of the deals worth keeping an eye on are the ones that contain bundle packs, such as the Forza Motorsport 6 and Forza Horizon 2. This bundle contains full versions of both games, along with the Forza 6 anniversary car pack and the Forza 2 anniversary car pack. The bundle with both games and the DLC is available for Xbox Live Gold subscribers for only $73.69. That's not a bad price for two full version games. Of course the deal probably only looks good for real simulation racing fans.
Games likeTitanfall are also available at up to 75% off. Not only that, but it's the Digital Deluxe edition of the game, so you get the extra DLC bundled in with the purchase. Other high-quality titles like The Witcher 3: Wild Hunt is also available at half-off the original price.
There's a massive list of games that will be discounted at various prices throughout the 17 day countdown. The sale will last up until December 28th, and there will also be daily discounts that will extend up until December 31st. From December 29th to January 7th Microsoft will also have a new year's sale with details set to arrive as the date draws closer.
You can check out all the digital games discounted for the Xbox One and Xbox 360 by visiting Major Nelson's blog.
Staff Writer at CinemaBlend.