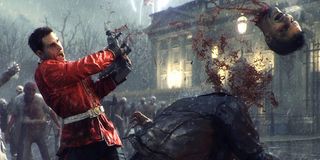 ZombiU was one of the most intriguing launch titles for the Wii U. Unfortunately, it won't spawn a long-running franchise. Ubisoft CEO Yves Guillemot says that the game won't be getting a sequel.
In ZombiU, players must survive a zombie-infested London. They must fight off undead while helping other survivors and exploring escape options. If they die, their character is dead permanently. They then take on the role of a new survivor and have to kill their former character, now a zombie, in order to get their gear back.
The game was notable not just for being a Mature-rated exclusive on the Wii U. It also used the console's GamePad in interesting ways. The GamePad's second screen can be used to scan the environment for secrets, pick locks, snipe enemies and more. ZombiU was a true showcase of the Wii U's capabilities.
The decision against ZombiU 2 came down to sales. Guillemot told GameIndustry International that ZombiU wasn't profitable. It wasn't "even close." As a result, they decided against producing a sequel.
Ubisoft's choice must have been a recent one. Back in May, ZombiU developer Ubisoft Montpellier said that they were "working hard on a prototype" for the sequel. I'm hoping that some video footage of this prototype makes its way online. I think fans would at least like to know what they're missing out on.
ZombiU's underperformance had wider consequences besides just dooming the sequel. It also hurt the Wii U's chances for other Ubisoft exclusives. After ZombiU's poor sales, the publisher decided to make Rayman Legends into a multiplatform game instead of a Wii U exclusive.
"We must find a way to ensure the creativity of those games could have a big enough audience," Guillemot told GI. "We hope it will take off. At the moment, we've said 'let's do through Christmas and see where we are from there."
Ubisoft has a number of multiplatform games in development for Wii U. Splinter Cell: Blacklist and Assassin's Creed 4 will launch on Wii U this fall along with competing game systems. New IP Watch Dogs will also appear on that console as well.
Even though Ubisoft isn't quite as enthusiastic for the Wii U as they were in the past, at least they're actually supporting the platform. Rival publisher EA isn't developing any games for the Wii U.
"We were there with four games for them [at launch]," EA's Peter Moore said in the same GI article. "It's been a disappointment when you look at sell-through and, as a company, we have to be very judicious where we deploy our resources."
In order for publishers to come around, the Wii U is simply going to have to start selling better. Otherwise it's going to be tough for Nintendo to convince any companies to put their time and money into exclusives like ZombiU.
Your Daily Blend of Entertainment News
Staff Writer at CinemaBlend.