Rayman Legends Coming To Xbox 360, PS3 In September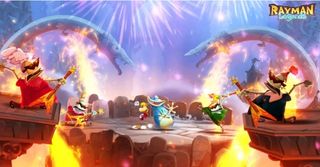 Rayman Legends, the former Wii U exclusive, is now aiming to see a multi-platform release across the Xbox 360 and PS3 later this year during the late summer, early fall days. The game has been announced as a non-exclusive to Nintendo's console despite being showcased for the Wii U during last year's E3 press conference.
Tony Key, senior vice president of sales and marketing at Ubisoft commented in the press release about the multi-platform addendum, saying...
This is quite interesting, as another Wii U exclusive – excuse me, a former Wii U exclusive – was also turned into a multi-platform title...I'm talking about Ninja Gaiden: Razor's Edge, which is now scheduled to arrive for the Xbox 360 and PS3 this spring during the early days of April.
Rayman Legends is a game that combines multiple game modes, lots of platforming, plenty of visually engaging environments and gimmicks and lots of challenging levels for those who love the classic Rayman experience.
The game is scheduled to arrive this September for the Xbox 360 and PS3 and you can keep up to date with more info by paying a visit to the Official Website. And let's hope the Wii U can keep hold of a few more of their exclusives...like LEGO City Undercover.
Staff Writer at CinemaBlend.
Your Daily Blend of Entertainment News
Thank you for signing up to CinemaBlend. You will receive a verification email shortly.
There was a problem. Please refresh the page and try again.