John Wick: Chapter 4's Post-Credits Scene Was Almost Way More Hardcore, But Could It Now Lead To A Spinoff?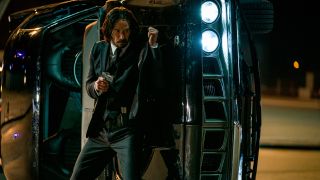 (Image credit: Lionsgate)
SPOILER WARNING: The following article contains major spoilers for John Wick: Chapter 4. If you have not yet seen the film, proceed at your own risk!
While the first three John Wick movies see all action conclude as the end credits begin to roll, John Wick: Chapter 4 is an exception. Those who stick around to watch the names of all involved in making the feature scroll up the screen are treated to an extra little scene that adds both a question mark and exclamation point to one of the film's plot threads. It's an exciting post-credits sequence that opens up one's mind to possibilities for the future – but what's also fascinating to know is that the production shot a version of it that is much darker than what we see in the final cut.
What happens in the John Wick: Chapter 4 post-credits scene, what could have been, and what could it mean for the future? I've put together this feature to answer all three of those questions, with quotes about the sequence from my recent interview with director Chad Stahelski.
What Happens In The John Wick: Chapter 4 End Credits Scene
Most post-credit scenes tend to be brief, but the one in John Wick: Chapter 4 is particularly short. That being said, its brevity doesn't undercut its impact.
Freed from his commitments to The High Table, Caine (Donnie Yen) is all smiles and featured in soft lighting as he is finally going to do what he's been yearning to do for years: reconnect with his estranged daughter. He has a bouquet of flowers to give her, and he slowly approaches her while she plays her violin in a town square. As he moves toward her, however, a hooded figure heads toward him
It's revealed that the hooded figure is none other than Akira (Rina Sawayama). She trusted John Wick (Keanu Reeves) to take revenge on her behalf against the man who killed her father (Hiroyuki Sanada), but he failed in that task so that he could instead kill the Marquis (Bill Skarsgård). Still thirsty for vengeance, she has decided to take matters into her own hands. As she approaches Caine, she whips out a knife, and the scene cuts to black.
The cliffhanger leaves us wondering whether or not Akira actually ends up killing Caine – which by itself opens up possibilities to exploit for the John Wick franchise – but it should be noted that the scene as it originally existed featured zero ambiguity.
An Early Cut Of John Wick: Chapter 4's End Credits Scene Had Akira Killing Caine
In the weeks running up to the theatrical release of John Wick: Chapter 4, I had the opportunity to have an extended, spoiler-filled conversation about the film with Chad Stahelski, and one of the many topics we touched upon was the post-credits scene. I asked about the origins of the sequence and how it came together, and he almost immediately told me that the original intention with the scene was to feature Akira successfully assassinating Caine.
Referencing a John Woo classic, Stahelski explained that the original idea with the sequence was driving home the notion that everyone needs to pay for their crimes, but he and Keanu Reeves got hung up on the fact that the sequence follows a depressing conclusion in the main body of the film: the death of John Wick. Said the director,
As the post-credits scene exists, it's more surprising than shocking… though Chad Stahelski also explained why he feels that the movie and the franchise on the whole would earn the full-on sequence with Akira slaying Caine:
Even without actually seeing Caine being killed by Akira in front of his daughter, one of the nice things about the ambiguity of the sequence is the fact that we as an audience can presently choose to believe that Akira gets her revenge and the messaging of the John Wick franchise stays intact. On the other hand, the fact that we don't actually see what happens means that there might be more to cinematically explore with the characters.
Because Of The Cliffhanger, Could John Wick: Chapter 4 Lead To An Akira Vs. Caine Spinoff?
Akira vs. Caine. That has a pretty nice ring to it, no? While Reeves' journey as John Wick might be over after Chapter 4, the continuity is living on thanks to upcoming spinoffs like Ballerina, starring Ana de Armas. Could an Akira and Caine-centric movie or series starring Rina Sawayama and Donnie Yen be one of these projects, given the lack of a firm conclusion in the post-credits scene?
It's not an idea that Chad Stahelski dismissed when I mentioned it during my interview with the filmmaker. He made it clear that he likes the thought of audiences drawing their own conclusions regarding what happens after Akira reveals her knife and the screen goes black, but kept open to the idea that things don't actually go down as the sequence was originally shot:
John Wick: Chapter 4, with a stellar cast including Keanu Reeves, Ian McShane, Lance Reddick, Laurence Fishburne, Donnie Yen, Hiroyuki Sanada, Rina Sawayama, and Bill Skarsgård, is now playing in theaters (having earned critical acclaim and an impressive Rotten Tomatoes score). To learn about all of the films that are set for release in the weeks and months to come, consult our 2023 Movie Release Calendar.
Your Daily Blend of Entertainment News
Assistant Managing Editor
NJ native who calls LA home and lives in a Dreamatorium. A decade-plus CinemaBlend veteran who is endlessly enthusiastic about the career he's dreamt of since seventh grade.