Suicide Squad: Did It Feature Too Much Joker, Or Not Enough?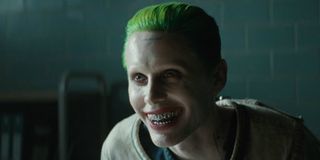 Warning: Suicide Squad spoilers ahead, continue at your own risk
Now that Suicide Squad has finally hit theaters, the DCEU seems to have gained a bit more footing in the world of cohesive superhero universes. Even in the face of lukewarm reviews, the story of Task Force X has proven insanely popular with die-hard fans of the DC lore. Much of this is due to the proper handling of beloved characters, and no DC character present in Suicide Squad is quite as beloved as The Joker.
However, while Jared Leto's Joker is one of Suicide Squad's biggest assets, he also happens to represent one of its biggest issues. David Ayer's supervillain team-up has a major Joker problem because it cannot seem to figure out that right amount of The Clown to utilize. Some of us at the Cinema Blend offices think his role in the film is too big, while others think it's too small. We've gone through the events of Suicide Squad and presented arguments for both sides of the debate, and we want hear what you have to say as well. Now let's get started with those who think Joker has too much screen time...
Suicide Squad Features Too Much Joker
Without question The Joker's best scenes in Suicide Squad occur during the first act when we see Harley Quinn's flashbacks, particularly the brief sequences taking place in Arkham Asylum. Watching him corrupt Dr. Harleen Quinzel, and then subsequently seeing them unleash absolute chaos on Gotham pretty much ensures that Joker peaks early during Suicide Squad, and his present day scenes never match that visceral tone.
Suicide Squad makes it abundantly clear that Joker will stick around the DCEU for quite some time, and as such there's a serious argument to be made that Joker should have disappeared from the movie as soon as Batman (Ben Affleck) captured Harley Quinn (Margot Robbie) in the Gotham Bay. Having the character vanish at this point would have sent him out on a high note, and it left a loose end that Warner Bros. could address during the events of Ben Affleck's solo Batman movie.
Suicide Squad Doesn't Feature Enough Joker
On the other hand, there's also a legitimate case to be made for the notion that Suicide Squad severely underused the Clown Prince of Crime. We already know that at least 10 minutes of Joker scenes wound up on the cutting room floor, and those sequences could have gone a long way towards fleshing out this new version of Mr. J. and his relationship to the rest of the DCEU.
As it stands, Joker just pops in and out of the run time of Suicide Squad, but he never really does anything meaningful that progresses the plot forward. Giving the character more to do and more characters to interact with could have helped establish him properly and present him as a much bigger threat to Task Force X throughout the mission. Because he doesn't get enough to do he can often feel like an ineffective villainous presence. Suicide Squad already suffers from having an incredibly weak central villain in the form of Cara Delevingne's Enchantress, so having Joker exist as a prominent wild card could have given the film a much bigger sense of unpredictability and danger. After all, that's what he does best.
Which Is Better?
It's difficult to determine which of these decisions would represent the better option for Suicide Squad. As it stands, we're inclined to believe that a more restrained approach to the Clown Prince of Crime would have improved the overall film. Joker is an eternal performer, and the best performers know that you always leave the audience wanting more. Suicide Squad has a number of plates to spin; it shouldn't have become quite so encumbered by the presence of DC's biggest villain.
Ultimately this debate might not have a definitive answer. Suicide Squad definitely has a problem when it comes to Joker's screen time, but the nature of that problem remains very much open for discussion. If you've seen the latest entry in the DCEU, let us know what you think about The Joker, his portrayal, and his screen time in the comments section below!
Originally from Connecticut, Conner grew up in San Diego and graduated from Chapman University in 2014. He now lives in Los Angeles working in and around the entertainment industry and can mostly be found binging horror movies and chugging coffee.
Your Daily Blend of Entertainment News
Thank you for signing up to CinemaBlend. You will receive a verification email shortly.
There was a problem. Please refresh the page and try again.