35 Years Later, Cary Elwes, Robin Wright, And More From The Cast Of Princess Bride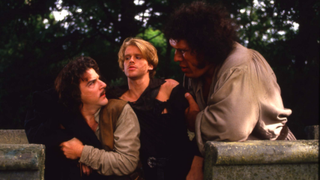 (Image credit: Twentieth Century Fox)
It is inconceivable to think that The Princess Bride has been around for over three decades. It was 35 years ago when director Rob Reiner and Academy Award-winning screenwriter William Goldman released this hilarious, thrilling, and romantic fairy tale adventure adapted from a book that Goldman, himself, also penned.
The real key to the enduring success of the 1987 film - which was cleverly parodied in a PG-13 cut of Deadpool 2 - would have to be the remarkably talented members of the Princess Bride cast - including Cary Elwes as Westley and Robin Wright as Buttercup. We honor these legends with the slideshow below, which includes photos depicting them in character and in real-life in more recent years.
Sarah is currently a professional child wrangler. When she is not running around on the playgrounds and slapping together PB&J sandwiches, she loves getting a good sweat in at the gym, singing, and going to see live theatre (while simultaneously dreaming about being a part of a stage creation again one day).
Your Daily Blend of Entertainment News
Thank you for signing up to CinemaBlend. You will receive a verification email shortly.
There was a problem. Please refresh the page and try again.