A Look At Jeremy Renner's Career So Far In Pictures
From makeup artist to original 6 Avenger!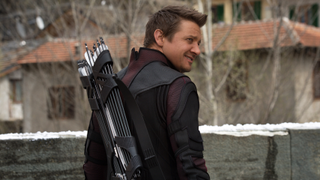 (Image credit: Disney Marvel)
Jeremy Renner spent almost 8 years in Los Angeles working as a makeup artist on the weekends to make ends meet while auditioning for acting roles. Eventually, his hard work paid off, landing him roles in major franchises like Marvel, Bourne, and Mission Impossible. It's quite evident that his career has come a long way since his first acting appearance in National Lampoon's Senior Trip in 1995 and that he can persevere through any challenge that comes his way.
The Hurt Locker actor recently celebrated his birthday in the hospital while recovering from a major snow plow accident on the first of the year. As we continue to follow his progress in the hospital, flip through this gallery to see his major (and minor) acting roles over the last 28 years.
Image 1 of 44
Your Daily Blend of Entertainment News
Sarah is currently a professional child wrangler. When she is not running around on the playgrounds and slapping together PB&J sandwiches, she loves getting a good sweat in at the gym, singing, and going to see live theatre (while simultaneously dreaming about being a part of a stage creation again one day).