Brendan Fraser Explains Why He Still Isn't Comfortable With The Praise And Gigs He's Receiving Amid The Brenaissance
He's still being modest about his comeback.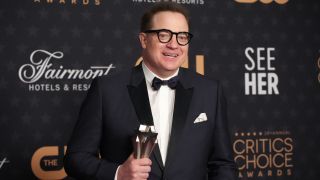 (Image credit: (Photo by Jeff Kravitz/FilmMagic))
This year is truly shaping up to be the year of Fraser. The Mummy star had been absent from cinema for nearly a decade before making his big screen come back in Darren Aronofsky's The Whale, garnering many nominations and wins this award season. While Brendan Fraser seems like a front-runner for the Academy Award for Best Actor (especially after his big win at the Critics Choice Awards), the actor says he's still not comfortable with the praise and gigs he's been receiving amid what fans have dubbed the Brenaissance.
Brendan Fraser recently spoke with NME for an in-depth feature about his life, career, and come back. In the interview, the Blast from the Past star got candid about dealing with his feelings of imposter syndrome. When asked if he's "now in the golden, gilded age of his career," his Whale director, Aronofsky, is quick to say it hasn't even begun. At the same time, Fraser answered far more humbly, saying he doesn't think he'll ever get comfortable with the current praise lavished on him. The actor told the publication:
While Fraser isn't ready to dub this period of his career as the "gilded age," it hasn't stopped directors from knocking at his door for some high-profile projects. Quite a change from the previous decade when the calls stopped coming, as the actor said.
Brendan Fraser is set to appear next in Martin Scorsese's much-anticipated period drama Killers of the Flower Moon, starring beside Jesse Plemons, Leonardo DiCaprio, and Robert De Niro. The Crash performer is also primed to return to comedy in Max Barbakow's (the director responsible for 2020's clever Groundhog Day'esq comedy Palm Springs) upcoming release Brothers, which is currently in post-production. So, it seems the George of the Jungle star has quite a busy schedule ahead of him, which should be a nice change of pace.
Since the actor's star is on the rise again, there have been rumors of possible returns to some of his beloved characters. Fraser has been very vocal in recent years about being "game" to return as Rick O'Connell in another Mummy outing. There have even been grumblings of a possible Encino Man 2, which I am so ready for. With Fraser's recent comeback in full swing, maybe the actor has the cache to finally get the ball rolling on some of these rumored sequels.
Brendan Fraser Is Among 2023's Oscar Nominees
All the congratulations and wishes of good fortune to Brendan Fraser as he continues through the Awards Season and the Brenaissance train continues to chug along. The actor might not be comfortable embracing his comeback, but this Fraser fan is here for it. If you're as big of a fan of the actor as I am, you might be interested in checking out our list of the best Brendan Fraser movies and how to watch them.
Killers of the Flower Moon is on the 2023 new movie release schedule and is expected to have its initial release in May, with a broader theater rollout still to be determined. For now, you can keep up with the awards race, as Brendan Fraser possibly makes his way to his first Oscar.
Your Daily Blend of Entertainment News
Ryan graduated from Missouri State University with a BA in English/Creative Writing.