Goonies 2? What The Cast And Steven Spielberg Have Said About A Sequel To The Classic Over The Years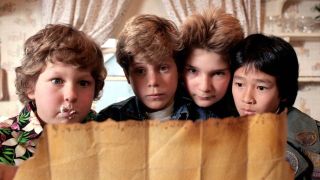 (Image credit: Warner Bros.)
The '80s were full of iconic movies that continue to remain relevant franchises today, such as Ghostbusters, Top Gun, Indiana Jones and The Karate Kid, but there have been a few that have surprisingly remained untouched by Hollywood's love of sequels. Richard Donner's 1985 movie, The Goonies, is a big example of this, but not for lack of trying. Goonies 2 has been a topic that's floated around for four decades now and there's still no sequel where the adventurers could echo their iconic phrase, "Never say die!" With that on the brain, let's break down what Steven Spielberg and the cast of The Goonies said about the sequel that has yet to happen.
While the group of misfits at the center of The Goonies were just kids when the movie was produced, just about all of them are working actors today, and its writers, Steven Spielberg and Chris Columbus, continue to be huge players in Hollywood. These are their thoughts about a Goonies sequel over the years.
Ke Huy Quan (Data)
Let's start with the latest comment on the subject. Ke Huy Quan, who played Data at 13 years old, recently made a massive comeback to Hollywood with Everything Everywhere All At Once. As the actor recently shared, he quit being an actor once he grew up and found a lack of opportunities, but Crazy Rich Asians inspired him to give it another shot. Now he's a Golden Globe winner and among 2023's Oscar nominees. When the actor was asked about the status of Goonies 2 following his Golden Globe win, Quan said this:
Goonies director Richard Donner died at the age of 91 back in 2021 and as the actor shared, he was the "captain" of their ship. That being said, the man behind Data sounds open to a sequel, if the right idea comes up.
Sean Astin (Mikey)
In the years following leading The Goonies, as Mikey, Sean Astin went on to find an even more iconic role in the Lord of the Rings trilogy as the Samwise to Elijah Wood's Frodo. Even so, the actor is asked all the time about making another Goonies movie. When he appeared at Rose City Comic Con in September 2022, he said this about the proposition:
Astin took a more optimistic approach to the whole thing, sharing his "hope" for Warner Bros. to make moves on another Goonies movie. He had a sense that it could still happen, but he's had various opinions on the subject prior. Back in 2019, he told Collider that he thought him and his co-stars had "probably passed the threshold" for doing a sequel, but was okay with the idea of a reboot. And back in 2015, Astin said that he knew in his "guts" it would get made one day.
Chris Columbus (Writer)
Chris Columbus, who has also been behind classic movies like Gremlins, Home Alone and the first two Harry Potter movies, wrote the screenplay for The Goonies. Columbus spoke to behind-the-scenes development on a sequel that never came to be to Empire in 2021. In his words:
The writer/director shared this a few months following Donner's death. With that in mind, it appears the original director had been doing the sequel in his mind just before he died, but the filmmakers never got together to think up ideas.
Corey Feldman (Mouth)
You can also count Corey Feldman among The Goonies actors who are constantly asked about the sequel. Back in 2015, the actor had a seemingly major update on the whole thing, revealing that he and Sean Astin had co-written a pitch and taken it to Donner, but it needed "far too big a budget" for what they wanted to do. He called it an "Indiana Jones-type" movie that was "maybe too much." When speaking again in 2021 about it to MovieWeb, Feldman had this to say:
Adam F. Goldberg, who is behind comedy TV shows like The Goldbergs and The Mighty Ducks: Game Changers did, apparently, pitch to Richard Donner, per Slash Film, and has reportedly been trying to get a sequel made since 2005. Perhaps, he'll still be successful someday, but for now, we haven't heard anything new in years.
Jeff Cohen (Chunk)
Of The Goonies main cast, Jeff Cohen is one who did not go on to pursue acting. He instead has found success as an entertainment lawyer, and even represents Ke Huy Quan, as the actor revealed to The Hollywood Reporter in 2022. When looking back at his role as Chunk with Yahoo in 2015, here were Cohen's thoughts on a sequel:
Hey, that's understandable. Not every child actor decides to actually get into Hollywood. And, technically, Cohen is in Hollywood, just not as an actor. So if a Goonies sequel did happen, it's doubtful his Chunk would be part of it.
Josh Brolin (Brand)
Of The Goonies cast, Josh Brolin is likely the most notable and famous of them all. While Brolin has embraced his early role in the '80s movie in the past, he wasn't optimistic about a sequel happening. Here's what he told The Tonight Show Starring Jimmy Fallon in 2014 regarding an update on Goonies 2:
It must be frustrating for the actors involved to hear about these updates, but never have a movie come to be.
Martha Plimpton (Stef)
Martha Plimpton, who played Stef in the movie, also wasn't confident in the idea when she answered a question about it during a 2016 Reddit AMA prior to Donner's death. In her words:
It seems like Brolin and Plimpton shared this feeling that Goonies 2 was more of a tease over the years than a reality. That's not to say they wouldn't be interested if the right script came along, however.
Steven Spielberg (Writer/Producer)
Perhaps it'd be Steven Spielberg, who wrote the original story and produced it, who could finally get Goonies 2 off the ground? The latest from the legendary filmmaker came during a Goonies reunion that Josh Gad hosted in his 2020 Reunited Apart series. Here are Speilberg's thoughts:
There you have it. That really seems to be the spirit of what's been going on (...err not going on). There just hasn't been a good enough idea that has propelled anyone involved to greenlight a sequel. Perhaps one day it will happen! Hey, it took 36 years for a Top Gun sequel to come out. Goonies could be next someday.
Your Daily Blend of Entertainment News
YA genre tribute. Horror May Queen. Word webslinger. All her writing should be read in Sarah Connor's Terminator 2 voice over.