7 Great Puerto Rican Actors And Where To Watch Them
Representing the Island of Enchantment in a BIG way.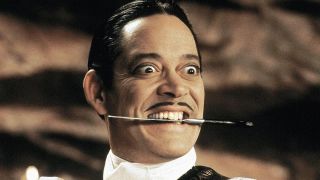 (Image credit: Paramount Pictures)
A great deal could be said of Puerto Rico's staggering resilience. The tremendous people of this great Commonwealth have gone through the catastrophic effects of 2017's Hurricane Maria, and are most recently struggling through the aftereffects of Hurricane Fiona. And yet, the people persist.
You know, when I initially pitched this article for Hispanic Heritage Month about seven great Puerto Rican actors and where to watch them, I had no idea how hard Puerto Rico would be hit. There had been warnings about Hurricane Fiona, but it didn't seem as potent as Maria.
And so, while reading this piece, I just hope that everybody can keep Puerto Rico in their thoughts, and to remember that while they might be down right now, they'll get back up again. If you want to possibly help, I have personally heard good things about Mariafund.org. Now, on with the list.
Raul Julia
When I wrote my great Filipino actors and where to watch them list, I knew that some people might not be aware that actors like Dave Bautista and Vanessa Hudgens were actually Filipino, and I think the same could probably be said of Raul Julia being Puerto Rican. How else to possibly explain why some people think that Luis Guzman, who will play the new Gomez Addams on Netflix's Addams Family TV show, is an "A+ choice," while others, who are familiar with Julia in the role, are "arguing" over Guzman's role as Gomez, when, NEWSFLASH, people, BOTH ARE PUERTO RICAN ACTORS.
But, I digress. Like many people in my age group, I first saw Julia in the two Addams Family movies in the '90s (and later in his last role as M. Bison in the so-bad-it's-good video game movie, Street Fighter), but, it actually blows my mind what an amazing body of work he had before he came into my, and many other people's, lives.
Besides his work in television films, like The Burning Season (for which he won awards), Florida Straits, and Mussolini: The Untold Story, as well as his legendary theater work, which may be his crowning achievement (My dude was a magnificent Shakespearian actor, but also had the range to play Dracula!), he was also in excellent films like Kiss of the Spider Woman, The Penitent, and Presumed Innocent, which is a fantastic non-Indiana Jones Harrison Ford movie. Still and all, I think you owe it to yourself to watch him again as Gomez in The Addams Family, because, you know, he's really that good as Gomez. Just as you remember.
Watch The Addams Family on Paramount+ (opens in new tab).
Rita Moreno
One of the very few EGOT winners, Moreno started off as a dancer before she moved on to roles in classic films like Singin' in the Rain, The King and I, and of course, West Side Story, for which she won an Academy Award, making her the first Latina to ever do so.
But, as I said before, she is an EGOT recipient, and received her Grammy for Best Children's Album for The Electric Company, her Tony for her performance in The Ritz, and two Emmys, one for The Muppet Show, and one for The Rockford Files. I could direct you to the original West Side Story, but I actually want to direct you to her role in Steven Spielberg's "bold musical remake" version of West Side Story, because hey, Rita Moreno has range, baby.
Watch West Side Story on Disney+ (opens in new tab).
Benicio del Toro
Benicio del Toro is legit one of my favorite actors of all time. My first recollection of seeing him was as the nigh-incomprehensible criminal, Fred Fenster, in The Usual Suspects. But, he's been impressing me for years following that role in phenomenal films like Traffic (for which he was nominated for an Academy Award), 21 Grams (another Academy Award nom), and Sicario.
Hell, I even love him in less heralded films like The Way of the Gun, Star Wars: The Last Jedi, and The Wolfman. Look, if it has Benicio del Toro in it, then I'll watch it. He's also done some television work, like Miami Vice, Tales from the Crypt, and Drug Wars: The Camarena Story. Speaking of drugs, I want to highlight his role in Fear and Loathing in Las Vegas as Dr. Gonzo. Because as your attorney, I advise you to watch it.
Watch Fear and Loathing in Las Vegas on Starz (opens in new tab).
Luis Guzman
As mentioned earlier, Luis Guzman, like Raul Julia, is of Puerto Rican descent. And, like Julia, he can play any role you throw at him. Comedy? Drama? Tragicomedy? You name it, Guzman can do it.
Some of his best movie roles are in Traffic, which he was in with Benicio del Toro, Boogie Nights, and Carlito's Way (my personal favorite of his). Television-wise, he was in The Burning Season (Remember that TV movie I mentioned WITH Raul Julia earlier? Guzman was in it!), Oz, his own show, the very-short lived Luis, and Narcos. As for films that I want to highlight, might I suggest Puerto Ricans in Paris? It's from 2015 and shows his more comedic side, which is always golden in my book.
Watch Puerto Ricans in Paris on Netflix (opens in new tab).
Jennifer Lopez
Jennifer Lopez is so much more than just her relationship with Ben Affleck. In fact, for me, she'll always be Jenny from the Block. Getting her start as a Fly Girl on In Living Color, J.Lo has been a pop sensation (Even performing at the Superbowl with Shakira!), a writer, and even won a Guinness Book of World Record for having the first number one remix album in America.
But, her acting is what I find most impressive, as she's done a wide range of genres and mediums, such as horror (The Cell), romantic comedies (Maid in Manhattan, Shall We Dance?), television (How I Met Your Mother, Shades of Blue, etc.) has been a judge on both a singing show (American Idol) AND a dancing show (World of Dance), and is just amazing all around. I want to highlight the movie she actually won some awards for, Hustlers, as it's probably the best role of her career. And that's saying something.
Watch Hustlers on Hulu (opens in new tab).
Jose Ferrer
Actor, film director, and theater director Jose Ferrer is the actor who goes the furthest back on this list, but is likely the one most well known by your parents and grandparents.
His biggest roles include his work in Lawrence of Arabia, the title role in Cyrano de Bergerac, which is a part that is done again and again, most recently by Peter Dinklage (which is a must-see), and Joan of Arc, which is where he made his film debut. I want to highlight The Caine Mutiny, though, which might just be one of the greatest Humphrey Bogart films ever, and all the greater because of Ferrer's excellent performance as LT. Barney Greenwald.
Rent or Buy The Caine Mutiny on Amazon Prime (opens in new tab).
Michelle Rodriguez
Lastly, I want to talk about Michelle Rodriguez, whose father was of Puerto Rican descent. Michelle Rodriguez has not only been in movies and television, but also a voice actress in video games like Halo 2, True Crimes: Streets of LA, and Call of Duty: Black Ops II, as well as The Fast and the Furious game, Fast & Furious: Crossroads (but, I'll get back to F&F in a minute).
Movie-wise, she's also been in Resident Evil, Machete, and I don't know, just the biggest box office movie of all time, Avatar. When it comes to television, she had a memorable run on Lost as Ana Lucia Cortez. But, yeah, her legacy will likely always be focused on Letty Ortiz in the Fast & Furious franchise, which is why I recommend her work in the latest film, F9, just to get you ready for Fast X, which is coming soon.
Watch Fast & Furious 9 on HBO Max (opens in new tab).
Puerto Rico is a beautiful place with beautiful people, and I hope they can get back on their feet sooner rather than later.
Rich is a Jersey boy, through and through. He graduated from Rutgers University (Go, R.U.!), and thinks the Garden State is the best state in the country. That said, he'll take Chicago Deep Dish pizza over a New York slice any day of the week. Don't hate. When he's not watching his two kids, he's usually working on a novel, watching vintage movies, or reading some obscure book.