I Know Bruce Campbell's Not In Evil Dead Rise But I'm Still Excited
With all due respect to the King...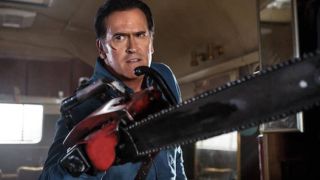 (Image credit: Starz)
I am in multiple Facebook groups for fans of the Evil Dead movies like myself and I cannot tell you how many times I have seen posts and comments from people in protest of the latest upcoming sequel, Evil Dead Rise. The main reason they are against the fourth installment (or fifth, if you count the 2013 remake) is because Bruce Campbell is not appearing as his iconic, chainsaw-handed Deadite hunter, Ashley J. "Ash" Williams. Personally, I think those primitive screw-heads need to get over themselves.
Before you go on accusing me of sacrilege, let me make it clear that I think Campbell is one of the greatest horror movie icons to ever live and I spent months working on a battery powered chainsaw-hand to wear with my Ash costume for Halloween in 2018, so I definitely hail to the King, baby. However, I do also believe it is possible to make a decent sequel to my favorite horror franchise of all time without him. Here are five reasons why you can still count me in to see the Ash-less Evil Dead Rise when it comes out in April 2023.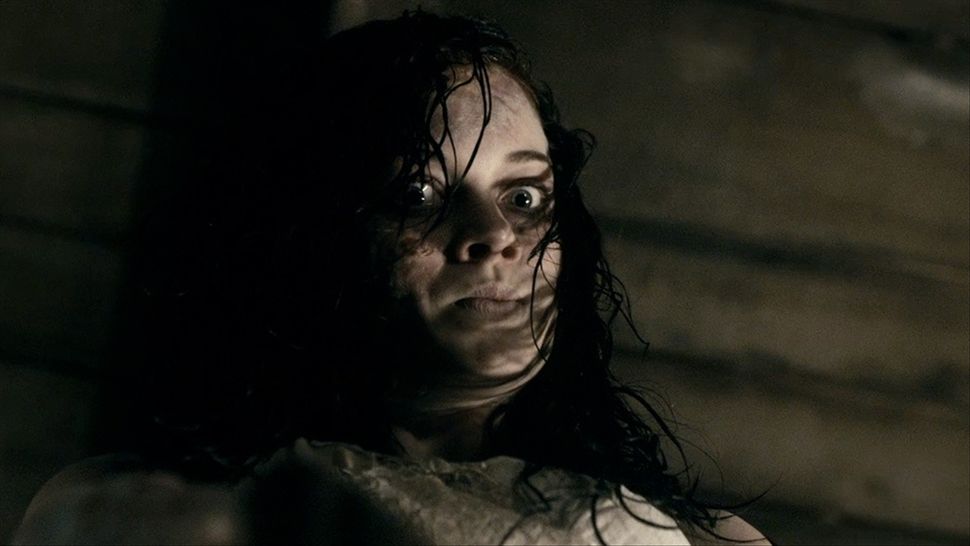 The Franchise Has Always Benefitted From Fresh Blood
The first person that I or any Deadite (as Evil Dead fans like to call ourselves) think of when we think of the franchise is and always will be Ash Williams. However, when it comes to the cast of characters, we have to realize that Campbell's bumbling, unlikely hero is just one cog in the system and that there are several other characters, brought to life by fantastic actors, who also make the franchise something special.
I believe that Jane Levy's performance as possessed, recovering drug addict Mia in Fede Alvarez's Evil Dead (one of the finest horror movie remakes, as far as I am concerned) is one of the best performances I have seen in any horror movie. Plus, what would Ash vs. Evil Dead have been without Ray Santiago as Pablo, Dana DeLorenzo as Kelly, or the rest of the cast of that awesome series? Adding new characters into the mix is what has kept the franchise thriving and the carnage flowing, which is why I am looking forward to meeting the Evil Dead Rise cast, which includes Vikings star Alyssa Sutherland and Australian native Lily Sullivan.
I Prefer The More Earnest Evil Dead Movies
When I said "the more the merrier," I was not just referring to the characters, but also the carnage, which is of an especially unique variety in the Evil Dead movies. Franchise creator Sam Raimi combined his affinity for horror and love for The Three Stooges into a style of filmmaking I like to call "splatterstick" (splattering gore combined with slapstick comedy) in Evil Dead II, which made it one of the greatest horror-comedy movies of all time. As much as I love the wackiness of that 1987 sequel, that was later elevated for Army of Darkness and Ash vs. Evil Dead, I have to admit that those are not my favorite installments.
The 1981 classic that started it all, The Evil Dead, remains my favorite horror movie of all time because (despite some decidedly cartoonish moments) it treats the material seriously. However, there was a time when I almost considered promoting the 2013 reimagining as my top choice of the franchise because I felt it was the most earnest and viscerally scary yet. Bottom line: I have loved the franchise the most when frightening me was a higher priority than making me laugh, and I think that Ash has become a little too silly over time for the sort of things that Evil Dead Rise appears to have in store.
The Trailer Suggests We Are Still In For Some Hardcore Horror
What sort of frights does Evil Dead Rise have in store? Just see for yourself by watching the trailer, which is one of the most gloriously bloody, bone-chilling, and even heartbreaking horror movie teasers I have seen in years.
I recommend watching the red band version of the trailer if you have not already. Not only does it introduce the family of characters cruelly torn apart by new spirits unleashed by the Necronomicon, but also the payoff of writer and director Lee Cronin's tweet claiming more than 1,700 gallons of fake blood was used, and a nod to the original with Lily Sullivan's character wielding a chainsaw. So, it appears that the film is honoring almost everything essential to franchise, just with a new setting and cast, as if Campbell had a hand in the project himself…
Bruce Campbell Is Still Producing
Oh, yeah. That's right — Bruce Campbell IS involved with Evil Dead Rise. Much like he did with the remake, the actor is serving as an executive producer on the film, alongside Sam Raimi and fellow franchise veteran Rob Tapert as a producer.
So, while Ash may not be in it, the man who plays him is still very much a part of it by giving his stamp of approval. Plus, there is a chance that he could have some subtle appearance, much like his post-credits cameo in 2013's Evil Dead. However, even if that does not happen, I will not be disappointed because I have come to terms with the fact that we will likely never see Ash on screen again.
I Think It Is Time We Accept Bruce's Decision To Retire Ash
It was five years ago, shortly after Starz cancelled Ash vs. Evil Dead after three seasons, when Campbell announced that the series had marked the last time he would play Ash Williams. The now 64-year-old actor explained that the role had grown to become too physically demanding for him, but that did not stop many of the Deadites I knew on Facebook from continuing to demand more Ash — whether in the form of a new movie or another season of the series, which actually ended on a decidedly perfect note, in my opinion.
It is always a sad moment to realize your favorite cinematic hero has seen his last days, but that does not mean he is gone forever, as you can relive his work whenever you want. Besides, Campbell would voice the character again for 2022's Evil Dead video game, which technically gave us what many had asked for. But, as far as the movies go, I think there is no shame in accepting that the character has been taken as far as he was destined to go, and as far as Campbell is willing to take him.
One thing that me, and some of the Deadites still pulling for another Ash movie, can agree on, however, is that no one can play the character like Campbell can and, therefore, it is best that he is not recast. As far as I am concerned, that is just another reason to be excited for Evil Dead Rise, because at least Lee Cronin and co. are not trying to recapture the same magic that Raimi and co. did, but are coming up with new tricks instead. That is all I need from any Evil Dead and hopefully, when the sequel hits theaters on April 21, 2023, it will be groovy enough for you, too.
Your Daily Blend of Entertainment News
Jason has been writing since he was able to pick up a washable marker, with which he wrote his debut illustrated children's story, later transitioning to a short-lived comic book series and (very) amateur filmmaking before finally settling on pursuing a career in writing about movies in lieu of making them. Look for his name in just about any article related to Batman.