Bruce Campbell Will Voice Ash In New Evil Dead Game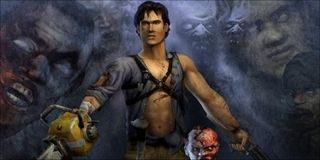 (Image credit: THQ)
Horror and action fans always have a place in their hearts for Evil Dead. Sam Raimi's action-horror comedy franchise is an iconic piece of cinema at this point, and any time there's something new announced for it fans usually get excited. Now, even though the Starz cable series may have wrapped up, Bruce Campbell has confirmed that he will be voicing Ash in a brand new Evil Dead game that's currently in development. Thus, giving sullen fans a reason to become excited once again.
Speaking with Bloody Disgusting, Campbell revealed that there's a video game in the works but didn't go into the specifics, saying...
There are no details on what the upcoming Evil Dead outing is like, but Bloody Disgusting hints at it possibly being a VR title, which wouldn't surprise me. The article also speculates that Campbell may be providing more than just voiceover work for the game, and could be stepping into the mo-cap suit to provide performance capture as well.
This bit of news comes after Campbell announced that he would finally be retiring from playing Ash in any live-action iterations of Evil Dead. Starz announced that the television series of the same name would not be renewed for a fourth season, wrapping up the half-hour series after three seasons. However, retiring from live-action roles isn't quite the same as retiring from video games.
The show wasn't quite on par to the original film series for some, being smaller in scale and a little less engaging, but it was still a fun little romp through the world that Raimi and Campbell had created and molded over the course of several decades.
The last live-action film starring Campbell was Evil Dead: Army of Darkness, which came out way back in 1993. A sort of reboot-sequel was released in 2013, with Fede Alvarez taking up the director's helm, but Campbell wasn't the star of that flick. He did reprise the role of Ash Williams in the 2015 Starz show, which ran up until 2018.
In between the 1993 film and the 2015 TV show, Campbell continued to dabble in the role of Ash Williams via video games. There were four unconnected games that were based on the trilogy of films, but three of them were made specifically after Army of Darkness, starting with Evil Dead: Hail To The King back in 2000, under the THQ publishing label.
THQ would then go on to publish two more games for the PS2 and OG Xbox, including Evil Dead: A Fistful of Boomstick in 2003, and, two years later, there would be a re-imagining of the series in the form of Evil Dead: Regeneration.
Campbell voiced Ash in all three games, and also allowed them to use his likeness for the game character.
We don't really know right now what the game will be like, and we'll have to wait to gain details on who the publisher and developer will be. However, at least fans can rejoice in the fact that, even though Campbell has retired from the live-action Evil Dead movies and TV shows, he'll at least reprise his role as Ash one more time in the realm of interactive entertainment.
Staff Writer at CinemaBlend.
Your Daily Blend of Entertainment News
Thank you for signing up to CinemaBlend. You will receive a verification email shortly.
There was a problem. Please refresh the page and try again.