James Cameron Now Says There's One Scenario Where Jack Could Probably Have Survived In Titanic. What Changed His Mind
Science saves the day again... but to what extent?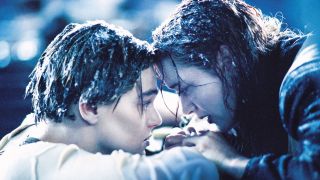 (Image credit: 20th Century Fox)
When Celine Dion first sang "My Heart Will Go On" 25 years ago, she could have been talking about the Titanic door debate that's persisted for just as long. As James Cameron's legendary love story is headed back to theaters as one of the 2023 new movie releases, the tide is rising on this much tested issue yet again. The only difference is this time, Cameron has admitted to a scenario that could have seen Leonardo DiCaprio survive along with Kate Winslet on the infamous floating door.
The One Titanic Scenario That Changed James Cameron's Mind
True to his word, Titanic's director is sticking with science after testing the scenario that saw Kate Winslet and Leonardo DiCaprio saying their final goodbyes in the 1997 tear-jerker. We see this through a clip debuted on GMA, which shows part of the study conducted for the National Geographic Channel's special Titanic: 25 Years Later with James Cameron.
Using a simulation that employed stunt performers close to Leonardo DiCaprio and Kate Winslet's proportions, James Cameron put this iconic moment through its paces. The most recent results of re-litigating the fates of Titanic's star-crossed lovers seem to have changed Cameron's mind on the subject, with the following details supporting Jack's odds of living:

As seen in the clip, the stunt people dressed as Jack and Rose are sitting on the door, with one crucial difference: they're keeping their upper bodies above the water. Rather than having Kate Winslet's character lying on the door as we've always seen, putting both of Titanic's leads in a sitting position is the key to what James Cameron feels would have saved Leonardo DiCaprio a freezing, watery death.
At the same time, this isn't a slam dunk that vindicates fans of love who want to rewrite this epic story. Which is saying something, considering Titanic's historical accuracy has always been somewhat of a widely accepted mixed bag.
Why Jack Dawson Would Have Probably Died Anyway
One more added factor that supports the case of Jack Dawson's survival is the decision to give Rose's life vest to Jack while sitting on the door. Scientifically, it's a wise move, as that's a little added warmth that would keep him in the game for a little longer. Still, James Cameron isn't quite saying that his romantic lead would have survived, as he included the following caveats:
So there you have it. Jack Dawson might have survived Titanic if a universe of variables lined up, and even then, he probably would have rejected that life vest or anything he thought would sabotage Rose. If you want to continue to debate this scenario with new information, take a look at the clip from Titanic: 25 Years Later, courtesy of GMA:
James Cameron may be singing a slightly different tune himself when it comes to this Titanic situation, but this new turn probably won't kill the debate. Perhaps it's time to take Kate Winslet's suggestion and have her and Leonardo DiCaprio reenact the moment for safety's sake. Though if that happens, it might just mean the end of the fan favorite theory that DiCaprio's Inception character is built upon the death of his seafaring protagonist.
In the meantime, fans will be able to watch Titanic: 25 Years Later with James Cameron on February 5th on the National Geographic Channel. The special will then be available to stream for those with a Hulu subscription ahead of Titanic's big return to theaters in 4K 3D on February 10th, which may or may not cause further problems for Avatar: The Way of Water's potential climb to the top.
Your Daily Blend of Entertainment News
Senior Movies Contributor
CinemaBlend's James Bond (expert). Also versed in Large Scale Aggressors, time travel, and Guillermo del Toro. He fights for The User.