James Cameron's Avatar: The Way Of Water Just Hit Another Box Office Milestone As It Gets Closer To Becoming The No. 1 Movie Of All Time
Avatar: The Way of Water keeps swimming to new heights.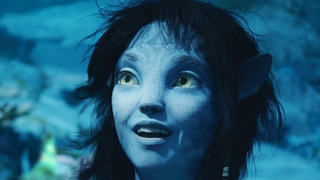 (Image credit: 20th Century Studios)
As its seventh week in theaters comes to a close, Avatar: The Way of Water continues to smash at the box office and break records, as it just became the fourth-highest-grossing movie of all time. This happened when James Cameron's long-awaited sequel officially made more money than Star Wars: The Force Awakens after surpassing $2.075 billion at the global box office.
According to Variety, the Star Wars film topped out at $2.064 billion during its theatrical run in 2015. With the long-awaited Avatar 2 bypassing The Force Awakens, it means only three movies stand in the way of it being No. 1: third place's Titanic ($2.2 billion), Avengers: Endgame ($2.79 billion) in second, and its predecessor Avatar ($2.92 billion) still holding the top spot.
This milestone also means James Cameron's films will go from holding three of the top ten highest-grossing movies of all time to being three of the four biggest movies of all time.
It's also notable that The Way of Water has not just passed by these box office records, it's done it incredibly fast. The movie was released in December, and on January 18, the film surpassed Spider-Man: No Way Home, and on January 26 it beat out Avengers: Infinity War, and now it's taken down Star Wars. I'd say that considering its ability to keep bringing in audiences, I could totally see it making its way to the No. 1 spot, becoming the most successful movie of all time.
A No. 1 spot Avatar 2 has held for a while now is the highest-grossing movie of 2022, as Top Gun: Maverick lost its box office record to The Way of Water not long after Cameron's movie passed $1 billion.
It's wildly known that this movie cost a lot of money to make, and a big question was if it would break even, since it had to bring in a record-breaking audience to at least make its money back. Well, seeing the movie become the fourth-highest-grossing film of all time means Cameron's project broke even, and it is now turning a profit. It is also likely cementing the fact that there will be more Avatar installments in the future.
We already know Avatar 3 is on the way, considering it was filmed at the same time as The Way of Water. Now, I think it's safe to assume Cameron's plans for a fourth and fifth movie will be officially greenlit sometime in the near future.
So, as movies continue to debut on the 2023 film schedule, it seems like The Way of Water is poised to keep dominating the box office for a bit longer. And who knows maybe it will become the No. 1 movie of all time, and James Cameron will hold all three top spots on the box office charts.
If you are looking to see Avatar: The Way of Water you can still check it out in theaters, and if you want to watch its record-holding predecessor, you can watch Avatar with a Disney+ subscription.
Your Daily Blend of Entertainment News
Riley Utley is a Weekend Editor at CinemaBlend. She spent many years working in local journalism across the country writing about art, news and sports. One of her favorite films is When Harry Met Sally and she walks around constantly quoting Ted Lasso.