Kate Hudson And Matthew McConaughey Admit They Were 'Pissed Off At Each Other' While Filming A Memorable How To Lose A Guy In 10 Days Scene
Now that you know this, you can kind of see the tension in the scene.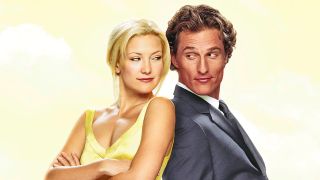 (Image credit: Paramount Pictures)
A big reason How to Lose a Guy in 10 Days works so well is Kate Hudson and Matthew McConaughey's chemistry. They are both outspoken charmers, and they were on their A-game in this classic early aughts rom-com. The movie, which centers around the two tormenting each other as Hudson's character tries to lose McConaughey in ten days, is full of shenanigans, peaking with the two singing "You're So Vain" at each other aggressively. Turns out some of that aggression was rooted in reality as the two actors revealed they may have been under each other's nerves a bit while filming this classic scene.
The duo's onscreen charm was likely one of the main driving forces behind the movie's box-office success and why it has endured as one of the best rom-coms for two decades. So, just in time to celebrate the film's twentieth anniversary, the two leads got together to celebrate their movie's longevity.
Kate Hudson hosted a live chat with McConaughey on her Instagram, where the two Hollywood A-listers reminisced about their time on set together, share backstage secrets, answer fan questions, and revealed which iconic scene was the most difficult for them to shoot. People might be surprised to hear that the film's iconic 'You're So Vain' scene was the most taxing for Hudson, who says the sequence required a long day of shooting and that some real-life tension was at play. The Almost Famous actress said:
In the video, viewers can witness McConaughey grin ear to ear as he diplomatically interjects to divulge that by the time cameras began to roll on the memorable sequence, the actors had already gotten under each other's skin. McConaughey says:
The scene in question (which you can view below) comes toward the film's end after the two love interests discover that they have each been dishonest, and they decide to take out their frustration with a drunken duet of the Carly Simon hit single in front of gobsmacked onlookers. The scene is iconic, but clearly, real-life annoyances began to seep into the actor's performances. The film's director, Donald Petrie, said in a Vanity Fair Oral History write-up of the flick," the actors probably still don't know this to this day—that it started to get too angry in the singing." However, the actors seem to be very aware of how their off-set lives affected on-set chemistry. McConaughey chalks it up to the two adding up all the ways they had wronged each other. The actor continued:
Clearly, the two actors had an appeal that made the flick's less-than-realistic premise believable. And they have been able to let squabbles go because the two have worked together in other films since, like 2008's Fool's Gold. Since its release, McConaughey has gone on record reminiscing about how well the movie works, which he says is in part to their "push and pull" dynamic. The 'you're so vain' scene probably wouldn't work so well without this extra layer to the pair's energy.
The movie has been receiving a revaluation in recent years, with many calling it a subversion of certain rom-com tropes, which Kate Hudson agrees with in her assessment of the genre's current landscape. And the cult classic still makes McConaughey the most money to this day. So the movie lives on in so many different ways.
How To Lose A Guy In 10 Days is more than a rom-com; it's a movie that gets better with age. If you'd like to see Hudson and McConaughey's real tension used charmingly, perhaps with your significant other just in time for Valentine's Day, it's available on streaming with a Paramount+ subscription. For all other movie news, stay tuned to CinemaBlend 2023 movie schedule.
Your Daily Blend of Entertainment News
Ryan graduated from Missouri State University with a BA in English/Creative Writing.