Kingdom Of The Planet Of The Apes Has Finished Filming, Here's How The Director Celebrated
The cameras are done rolling!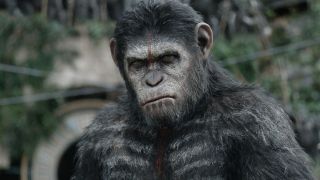 (Image credit: 20th Century Fox)
In December 2019, it was announced that Wes Ball would take over directorial duties on the Planet of the Apes reboot film series, with Kingdom of the Planet of the Apes set to bring us back to this continuity "many years" after the events of War for the Planet of the Apes. Kingdom's principal photography began in October, and Ball, who was once attached to helm the now-scrapped Mouse Guard movie, has revealed that filming is now finished, sharing this bit of news on social media in a fun way.
Wes Ball and his team have been hard at work on Kingdom of the Planet of the Apes for the past five months, and with the filming completed, now begins the extensive postproduction process. But before that next phase begins, what better way to celebrate Kingdom being done rolling cameras than with some digitally-created apes? Check out the humorous video that Ball shared on his Twitter page to commemorate the milestone:
That's a wrap! 🦍🤝💪 🎉#kingdomoftheplanetoftheapes pic.twitter.com/ZeKeXNuuodFebruary 15, 2023
If you're going to let the world know that Kingdom of the Planet of the Apes (which used the working title Forbidden Zone) is done filming, of course you'll show some digital apes on a screen excitedly waving goodbye on a screen! It was a relatively lengthy journey getting Kingdom in front of cameras, but now the footage has been recorded, so it's time to edit it together and make sure the apes themselves look as realistic as possible. Maybe a similar version of this video can be posted whenever the final Kingdom cut is locked, but this time the apes will look a lot more refined.
Kingdom of the Planet of the Apes' official title was announced in late September, and since then we've been learning who's comprising the extensive cast of this next Apes movie. While no specific characters have been identified yet, The Stand's Owen Teague is playing the main ape protagonist. Teague's castmates include Freya Allan, Peter Macon, William H. Macy and Dichen Lachman, to name a few. Behind the scenes, Rich Jaffa, Amanda Silver, Josh Friedman and Patrick Aison all worked on the script.
Until recently, we barely had any sense of where Kingdom of the Planet of the Apes' story would take moviegoers besides it being set an undetermined amount of time after War for the Planet of the Apes and exploring the legacy of Andy Serkis' Caesar. Fortunately, the proverbial curtain has been pulled back quite a bit, as it was revealed that Kingdom will take place at a time when there are multiple ape societies thriving and humans "have been reduced to a feral-like existence." Some of these ape societies have never heard of Caesar, while others have used his teachings to justify building "burgeoning empires." One particular ape leader has gone so far as to enslave other groups and force them to find human technology, which leads Owen Teague's character to set out on a journey to find freedom, and along the way, he'll meet a young human woman who becomes integral to his goals.
Kingdom of the Planet of the Apes opens in theaters on May 24, 2024. We'll continue sharing updates on its progress, but until then, look over the lineup of 2023 new movie releases to figure out what you'll watch later this year.
Your Daily Blend of Entertainment News
Connoisseur of Marvel, DC, Star Wars, John Wick, MonsterVerse and Doctor Who lore. He's aware he looks like Harry Potter and Clark Kent.