Man Wanted For Trying To Leave Dead Fish At Goonies House Ends Up Getting Rescued After Accident In Stolen Boat
You cannot make this stuff up.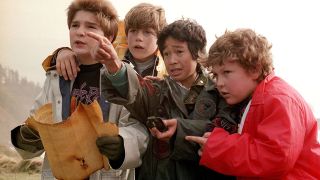 (Image credit: Warner Bros.)
Movies can spin some pretty interesting stories that can delight moviegoers but, sometimes, reality can be stranger than fiction. Case in point, a man who had to be rescued by the Coast Guard this past week was the same person that had been sought out by authorities in Astoria, Oregon for leaving dead fish at the house featured in the 1985 Richard Donner film, The Goonies. (Yes, you read all of that correctly). This is a story so bizarre it's worthy of a movie adaptation, or perhaps, producers can work it into the long-rumored Goonies 2!
A concerned citizen called the local police on February 1, 2023, to inform them Labonte had posted a video to social media placing a dead fish on the porch of the famous Goonies' house. Per the Astoria 911 Dispatch, on the following Friday, police received a call from Port Security Chief Matt Hansen informing them that a vessel involved in a Coast Guard rescue earlier in the day had been stolen from the Port of Astoria. Chief Hansen had recognized the ship from a video posted by the Coast Guard on its social media and contacted the owner to confirm it had been stolen.
The police say that roughly around the same time they received the call from the Security Chief, they received calls from citizens identifying the rescued victim as the man they were looking for in relation to the fish incident. You can watch the rescue that led to the man's arrest in videos captured and posted by the Coast Guard below:
(1/4) #BreakingNews - Talk about arriving in the nick of time! While conducting a training mission at the mouth of the Columbia River, 2 Coast Guard air crews received a #MAYDAY broadcast from the master of the P/C Sandpiper. After notifying watchstanders at Sector Columbia River pic.twitter.com/CtYSgpdPUGFebruary 3, 2023
After the Coast Guard was successfully able to rescue Jericho Labonte, he was taken into custody without incident. Authorities report that Labonte is wanted on charges of Theft I, Endangering another Person, Unauthorized Use of a Vehicle, and Criminal Mischief II. Not only is the man facing charges in Astoria, but authorities say he is wanted in his home of British Columbia on charges of criminal harassment, mischief, and failure to comply.
This isn't the first incident surrounding the famous house and tourist landmark. The home's previous owner, Sandi Preston, had the City Council and the Chamber of Commerce assist her in keeping visitors from taking pictures of her property after tourism to the iconic house exploded. She had to place a sign on her street that read, "Access Closed to Goonies House" in order to keep rabid fans from trespassing on her property.
However, the OPB reports that the home has a new owner, a self-proclaimed super fan named Behman Zakeri, who says he purchased the house to "make sure that the public still has some kind of access to it." Still, it's doubtful Zakeri had the incident involving Labonte's fish in mind when he made the house more accessible to fans.
The incident with the Goonies' house isn't a unique one. Often places used in popular media can become the target of rabid fans. Breaking Bad creator Vince Gilligan had to appeal to fans of his groundbreaking television show to stop visiting the Albuquerque home that stood in for Walter White's suburban abode because often they would show up and throw pizzas on the owner's roof -- an homage to a scene in the show. And the realtor of the American Horror Story Murder House was sued by a new purchaser over fan harassment, which they claimed hadn't been disclosed to them before the purchase. If these incidents have taught us anything, it is that franchise devotees can sometimes be a bit too over-the-top. So one might want to think twice before purchasing a famous home featured in movie and TV productions or before opening up your home to such projects.
It's doubtful that a fishy subplot featuring a stand-in for Jericho Labonte will be featured in a sequel, but talks about Goonies 2 continue to take place, so never say die! And with the recent award-winning return of Data actor Ke Huy Quan, a new adventure for the Astoria boys will likely gain some more steam. We'll be keeping an eye on that and for any further developments on Labonte's situation.
Your Daily Blend of Entertainment News
Ryan graduated from Missouri State University with a BA in English/Creative Writing.