Seth Rogen Clarifies Comments About No One Having Made Good High School Movies Since Superbad
Seth Rogen set the record straight.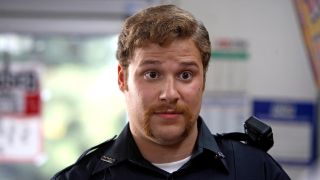 (Image credit: Sony Pictures)
Superbad is considered one of Seth Rogen's best movies and arguably one of the greatest high school movies of the 2000s. Many would probably agree, but the comedic actor recently made waves when he opined that there haven't been a good high school movie since the R-rated coming-of-age comedy hit theaters over a decade ago. After the comment caused a stir on social media, the Fabelmans actor is setting the record straight on that.
It seems that with every passing year, audiences are gifted with high school movies, each of which try to put a different spin on a coming-of-age story. Superbad is famous for its ingenious plot, which sees two unpopular high school students attempting to buy alcohol to impress their crushes. The film is also notable for introducing audiences to Hollywood veterans like Jonah Hill, Michael Cera and Emma Stone. Seth Rogen, Superbad's co-writer and a cast member, admitted while talking about Hilarity for Charity's third annual CareCon (via People) that he didn't mean to rile up people and explained just how serious he was with those sentiments:
The Judd Apatow-produced comedy may be one of the most defining movies of the millennial generation, but the actor/producer does admit that there have been many memorable high school films since then He made sure to mention films like Blockers and Good Boys (both of which he produced) as well as the 21 Jump Street reboot. The Knocked Up actor also mentioned teen comedies that he and his wife have watched over the past decade like Lady Bird. They're also fans of Easy A, The Edge of Seventeen, Spider-Man: Homecoming and Into the Spider-Verse.
It's understandable why Seth Rogen still holds his 2007 comedy in such high regard nearly 16 years later. The Freaks and Geeks actor has been open about why he thinks Superbad is perfect. In his estimation, it still appeals to teenagers of this generation due to its timeless subject matter. It's true that the movie also showcased a lot of raunchy situations but, at it's core, it's a sweet movie about two friends who are on the cusp of entering a new chapter in their lives.
Because of the movie's enduring popularity, some have been asking for a follow-up for years. When the subject was brought up six years ago, Seth Rogen said a sequel shouldn't happen because the original movie was about the personal experiences he had with his co-writer, Evan Goldberg, when they both were high school seniors in Canada. The two of them didn't go to college together, so there wouldn't be a friendship story to focus on in another movie. Also, Judd Apatow explained his plan for a theoretical sequel was to have the character of Seth flunk out of college and follow Evan at his college. It's an intriguing idea, but it's probably best that it was left alone.
On its own, the film remains a classic, and Seth Rogen and co. deserve a lot of credit for it. But of course, we definitely can't forget the other great flicks that have followed it. You can see why Superbad still holds up after all this time by streaming it with an HBO Max subscription or a Hulu subscription.
Your Daily Blend of Entertainment News
Just your average South Floridian cinephile who believes the pen is mightier than the sword.