What Is Tollywood? - What To Know And How It's Different From Bollywood
For those of you who loved RRR...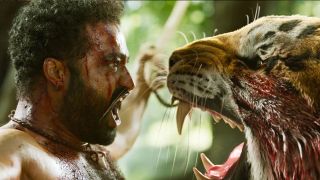 (Image credit: Pen Studios)
Everybody's heard of Hollywood. Many of you have heard of Bollywood. Some of you may have even heard of Nollywood. But, have you ever heard of Tollywood?
If not, you're probably going to soon, what with the Oscar-nominated movie, RRR, blowing up in a big way. And, that's because RRR is a product of Tollywood, NOT of Bollywood. What's the difference, you ask? Well, you're about to find out.
What Exactly Is Tollywood Anyway?
Essentially, Tollywood is Southern India cinema. The "Tolly" in Tollywood is for Telugu, which is the language spoken in the states of Andhra Pradesh, and Telangana. Most Telugu cinema is filmed in Hyderabad, where they have their own little "Tinsel town" called Film Nagar, which is a neighborhood with entertainment studios that you can learn about from the website, premiumbeat (opens in new tab).
I recently heard about Tollywood because a coworker of mine mentioned how RRR was a Tollywood production, rather than a Bollywood production (more on that in a few). That said, Tollywood actually goes way, way back. I'm talking, the early 1900s back. Indian filmmaker Raghupathi Venkaiah Naidu is often considered the "father" of Telugu cinema. He started a film studio called Glass Studio, and he directed some of India's earliest silent movies.
In 1932, Indian director, H.M. Reddy (The H.M. is for Hanumappa Muniappa) gave Telugu cinema its first talkie in the Hindu mythological film, Bhakta Prahlada, which was actually remade in 1942, 1967, and in the year of our Lord (and me), 1983.
But, the fact is, Tollywood has a long, rich history that didn't just begin with RRR, which my ignorant behind believed since I thought all Indian cinema was considered Bollywood. Speaking of which…
What Makes Tollywood Different From Bollywood?
Not, too, too much actually. At least, not anymore. Unlike say the differences between South Korean movies and North Korean movies, where we pretty much just say "Korean movies" (like Parasite) when what we actually mean is South Korean movies, since we don't really know much about North Korean cinema, given the political climate there.
The main, surface level difference between Bollywood and Tollywood is location, and thus, languages. Bollywood is primarily centralized in Mumbai, which used to be called Bombay, hence the "Bolly" in Bollywood. Bollywood movies, such as Brahmastra: Part One-Shiva, are spoken in Hindi, which is the most spoken language in India, whereas Telugu films are spoken in Telugu.
However, a lot of Telugu films, like RRR, are translated into Hindi (and also dubbed), so it's easy, from an outsider's perspective anyway, to mistake Tollywood films for Bollywood films. My best friend, Ankur, who knows more about Indian cinema than I'll ever know, says that it used to be easier to tell Tollywood films from Bollywood films on a production level, as Bollywood films tended to have bigger budgets, and thus, looked better.
But now, he says that Tollywood films have caught up, and may have even surpassed Bollywood films on many levels, especially when it comes to action movies, which are a specialty in Tollywood cinema, whereas romance and big musical numbers are more Bollywood's hallmarks.
Now, that's not to say that Tollywood films can't have amazing dance numbers (Just see "Naatu Naatu" from RRR if you want to be amazed), or that Bollywood films can't be action packed. For example, Bollywood films don't even need to be musicals at all (Please check out the excellent Toolsidas Junior for an example). It's just that one region of cinema specializes in one aspect more than the other. Both are great, and for different reasons. But, let's get into some of those Tollywood films, shall we?
Major Tollywood Movies, Including RRR
What more can be said about RRR that hasn't already been said? In fact, we here at CinemaBlend think it should have been up for even more nominations than just "Best Original Song" at the 2023 Oscars (Hell, we even put it on both our top 10 movies of 2022 list as well as our list of best fight scenes of 2022), so honestly, I'd like to focus on some other Tollywood bangers, since RRR has already gotten its flowers.
Now, before I talk about some of these films, I just want to clear something up for the "well, actually" crowd. Yes, I know that there is technically another "Tollywood," which is based in the Tollygunge area of West Bengal, India. That said, because of Telugu cinema, this region of cinema is now more commonly referred to as Bengali cinema. I only bring this up just in case you were wondering where the widely acclaimed Pather Panchali in the Apu Trilogy factors into this. So, if you see that Pather Panchali is considered a Tollywood film, it's not the Tollywood that I've been talking about in this article.
Anyway, onto those bangers, many of which can be found on Netflix. First off, I know everybody's talking about RRR, but the biggest breakout of Tollywood cinema is 2015's Baahubali: The Beginning, and especially its sequel, Baahubali 2: The Conclusion. Baahubali 2, which is an epic action film, and also among the highest grossing Indian movies of all time. And, get this, it's also directed by the same man who did RRR, S.S. Rajamouli. I know it's reductive to make comparisons, but if anybody's the Indian James Cameron, it's probably S.S. Rajamouli.
Other notable Tollywood films include Saaho, Pushpa: The Rise, and the recent Waltair Veerayya. Honestly, if you liked RRR, then there's a lot that you'll probably like in Telugu cinema. A lot of it is pretty bombastic and wonderful.
The Current State Of Tollywood
You know how I mentioned that I didn't know what Tollywood was, but that I knew what Bollywood was? Well, I think the same could be said for a lot of Americans. Whenever I used to think of "Indian cinema," I had a very distinct picture of what it was in my head. For the most part, I saw big, lavish dance numbers, two leads making kissy faces, and happy endings. I definitely did not see the action-packed RRR.
And, that may be why Tollywood may soon surpass Bollywood with its global reach. According to an article from Mint, Tollywood seems to be going toe-to-toe with Bollywood now. Movies like RRR and Baahubali 2: The Conclusion have offered something new and exciting that might challenge the perceptions people have of what Indian cinema can be.
Personally, I've seen a number of Bollywood and Tollywood pictures by now, and from what I've seen, Telugu movies do feel different from Bollywood movies. The action is more ramped up in Tollywood films, and there are less elaborate, scene-stealing musical numbers, so it really all depends on what I'm more in the mood for at the time. In the end, we'll just have to wait and see what comes next, which brings me to my last point.
The Future Of Tollywood
Well, first off, let's see what RRR director, S.S. Rajamouli, has in his mind. According to IndiaTV News, SS. Rajamouli's next project will be a movie with Sarkaru Vaari Paata's Mahesh Babu tentatively titled SSMB29, which is apparently supposed to be similar to Indiana Jones, according to Pinkvilla. So, yeah, I'm looking forward to that, of course.
According to Gadgets360, some other upcoming movies not from S.S. Rajamouli include the action drama, Dasara, the thriller, Ravanasura, and the action drama, Ugram. There are plenty more, but those are the ones that really stuck out to me. The fact is, Telugu cinema looks to be bigger than ever, and it has a super bright future.
So, that's what I've learned since researching this topic. I hope you learned something, too!
Your Daily Blend of Entertainment News
Rich is a Jersey boy, through and through. He graduated from Rutgers University (Go, R.U.!), and thinks the Garden State is the best state in the country. That said, he'll take Chicago Deep Dish pizza over a New York slice any day of the week. Don't hate. When he's not watching his two kids, he's usually working on a novel, watching vintage movies, or reading some obscure book.