Why Netflix's RRR Deserved More Nominations For The 2023 Oscars
Where is the RRR representation?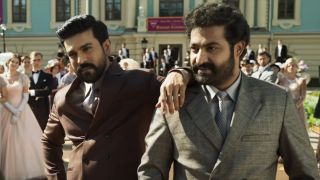 (Image credit: DVV Entertainment)
After months of campaigning and becoming a surprising sensation in the United States, sadly RRR only has one entry on this year's list of Oscar nominees. The biggest thing going against the Indian Telugu-language film was that it couldn't be considered in the Best International Feature category, however, it still made waves and had major Best Picture potential. Even though it wasn't nominated in many categories, and was recognized in Best Original Song for "Naatu Naatu," there are plenty of other categories it could have gotten into, including Best Picture, so let's talk about it.
Admittedly, I am on the corner of the internet that is full of RRR admirers, and I also adore the film. This three-hour epic from S. S. Rajamouli has been beloved since its release in India, and it made waves in the United States in a way that only a few international films do in a given year. Between the heartfelt story, jaw-dropping action, and over-the-top opulent and massive sets there are so many reasons this movie should have gotten more than just one nomination at this year's Oscars.
There was lots of chatter surrounding this movie when it came to Best Picture and Best International Feature. Since India didn't submit the movie for consideration, according to IndieWire, it was left out of the international category, which is one of the major reasons it had such a massive Best Picture push. It sadly wasn't among the ten nominations for the biggest award of the ceremony, but considering this year's competition, while sad, it's not all that surprising. However, there were lots of technical categories it could have gotten nominations for, and one of the biggest shocks from the Oscar nominations was it only got one nomination, making it one of 2023s many Academy snubs.
I think the category I would have liked to see this movie nominated in most, other than Original Song, was Best Sound. This film is a massive, action-packed epic with phenomenal sound design that immerses you into this world, and then heightens the story and the action by mixing its outstanding music with its sound. I remember watching this movie for the first time with some really good headphones on and being blown away by the scene where N.T. Rama Rao Jr.'s character fights a tiger, as well as the bridge sequence between Rao Jr. and Ram Charan Teja. This is not just because of the action, but also because of the way sound effects and music were mixed seamlessly together to create a unique and immersive environment that really captures your attention and draws you into this story.
The other category it would have been nice to see RRR in was Best Production Design. While the five movies nominated all have outstanding sets and production – specifically All Quiet on the Western Front and Babylon in my opinion – I was blown away by the massive, sometimes campy in the best way, and detailed production design of RRR. Part of the reason it's so effective is it shows that clear cultural distinctions between the settings within the movie. From the Western colonizers' mansions to the jungle villages, the film takes you through many different parts of India, and it does so in an effective and masterful way through its production design.
These are the two big technical categories I think RRR should have been nominated for. I also think it was deserving of consideration in other technical categories like Makeup and Hairstyling, Costume Design and Editing. However, sadly none of that happened.
Although it did nab one very exciting nomination for Best Original Song for "Naatu Nattu" and is likely the frontrunner in that category.
I'm not making this claim that "Naatu Naatu" is the frontrunner blindly, the song is a beloved banger, and it has been picking up trophies here and there across the awards circuit. The tune by Kaala Bhairava, M.M. Keeravani and Rahul Sipligunj has won at the Critics Choice Awards, the Golden Globes as well as many other smaller ceremonies, and it was nominated at the Satellite Awards. With a streak like that, and so much enthusiasm surrounding the song, I could 100% see it taking home the Oscar.
All things considered, it's so exciting RRR picked up one nomination, and is the frontrunner. However, it's a bummer it wasn't recognized for anything else, despite it making many best-of lists, including CinemaBlends Top 10 Movies of 2022 as well as our best fight scenes of last year.
In the end, while it's a bummer it didn't get nominated for much, even though it deserved it, it's so exciting to see this exhilarating film from India represented. If you haven't seen RRR yet, you should 100% check it out, all you need is a Netflix subscription. Also, let us not forget the performance of "Naatu Naatu" alone is something you won't want to miss during the Academy Awards, so be sure to tune in on March 12 at 8 p.m. ET on ABC.
Your Daily Blend of Entertainment News
Riley Utley is a Weekend Editor at CinemaBlend. She spent many years working in local journalism across the country writing about art, news and sports. One of her favorite films is When Harry Met Sally and she walks around constantly quoting Ted Lasso.