Why Thor: Ragnarok's Director Taika Waititi Took On The Role Of Korg
I'm really glad that he did.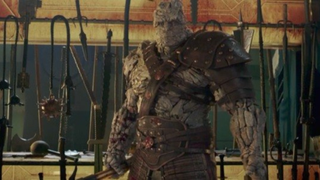 (Image credit: Disney)
Thor: Ragnarok is about to take Marvel audiences to distant planets as the God of Thunder (Chris Hemsworth) loses control of Asgard and must battle his way off of the warrior world of Sakaar. Thor will encounter a few familiar faces on this quest -- most notably The Hulk (Mark Ruffalo) and his evil step-brother, Loki (Tom Hiddleston). But Thor: Ragnarok also introduces a slew of incredible new characters, and at least one of them -- Korg -- will be played by Ragnarok director Taika Waititi.
The Marvel director made this admission to our own Eric Eisenberg during an exclusive tour of the Marvel Studios in Los Angeles, explaining that his role as Korg came about after considering another big actor:
Taika Waititi was showing off visual effects from his upcoming sequel, Thor: Ragnarok, and one main scene that he screened for us involved Thor meeting Korg on the gladiator planet of Sakaar. Korg, who was first introduced in the pages of the Marvel Comics in 1963, is a member of the Kronan race. Originally a villain, Korg has history with both Hulk and Thor, having been defeated by the latter in an early story, but then also teaming with Hulk during the World War Hulk storyline when -- and stop me if you have heard this before -- Korg is banished to Sakaar to fight in gladiator battles. So yeah, this is why Thor: Ragnarok needs him around.
As Taika Waititi explained to us:
Through motion tests, Taika Waititi explained that they captured the unique look of Korg with motion-capture body suits. He will be one of many creatures that will be introduced in the colorful environments of Thor: Ragnarok... and now, when you see him, you will know that the film's director is underneath that CGI imagery.
In Thor: Ragnarok, the son of Odin loses Asgard to the invading forces of Hela (Cate Blanchett), and must battle his way back from the world of Sakaar with the help of The Incredible Hulk (Mark Ruffalo). In addition to the aforementioned cast members, Ragnarok also stars Jeff Goldblum, Tessa Thompson, Karl Urban, Idris Elba, Anthony Hopkins and Benedict Cumberbatch as Doctor Strange. It opens in theaters on November 3, while you can learn more about Upcoming Marvel Movies with our full guide.
Your Daily Blend of Entertainment News
Your Daily Blend of Entertainment News
Thank you for signing up to CinemaBlend. You will receive a verification email shortly.
There was a problem. Please refresh the page and try again.