RANT: What The Heck Happened To The Goo Goo Dolls?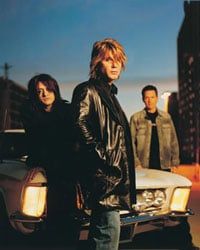 About 13 years ago, the Goo Goo Dolls forgot it was a punk rock band. When the former rockers' first album, Jed, came out in 1989, it seemed to preview a band who was just assembling the pieces to a rock tour de force.
Bassists Robby Takac was the lead vocalist at that time, fueling the tracks (which all sounded as though they were recorded in a bathroom) with a youthful ferociousness that many '80s metal heads embodied. Takac's "Road to Salinas" and the "Gimme Shelter" cover were innovative and firm enough to make us think this was a group worth paying attention to.
But as time progressed, the Goos figured out that guitarist Johnny Rzeznick was just too good-looking to not be the frontman. The transition became official with Superstar Carwash in 1993, where Rzeznick's soulful ballad "We Are The Normal" and the teenage girl tearjerker "Cuz You're Gone" officially solidified the trio as a mainstream pop act.
Then of course, we had "Name" and "Iris" shoved down our radio-addicted throats throughout the duration of the '90s. I believe remnants of Robby Takac were last detected on the tracks "Impersonality" and "Slave Girl" for 1995's A Boy Named Goo. You know, the CD you pop in so you can cry to "Name" on repeat for a half hour while casually referring to the album's other songs as, "Wait, are other songs on this CD?"
For the better part of a decade, the Goo Goo Dolls have been on the soundtrack of every teen movie and soap opera. It's too apparent that the songs are prepped in the hopes of excessive radio play. Having heard Let Love In, the Goos latest release, it can safely be said that there is no edge left in these boys.
Although, if you still enjoy whatever it is these guys have left to offer, then it should please you to know that the Goos' current tour is slamming through the U.S. until after March. The tour will then head over to Ireland and the United Kingdom and back to the U.S. for some summer shows.
If there's one person who is undoubtedly excited for those performances, it's Johnny Rzeznick, who recently told Billboard that he doesn't tire of playing his hits. "I've seen bands who almost get resentful of their hits; they look at success with contempt. It's a very artsy thing to do. F@&k that, I say, be grateful that you have the hits, because most people would give their left nut to have even one. Play your ass off and prove yourself every night that you have the chance."
It's nice to at least see that he enjoys performing, even if his songs have gotten stale lately.
Since there is no accounting for good taste, the Goo Goo Dolls' were declared as the biggest act in the history of Billboard's adult top 40 last December, due to its 12 top 10 hits over a 10-year span. I congratulate the Buffalo, N.Y., natives on their success. After all, it's not every day that an up-and-coming rock band trades in its artistic fervor for a little bit of gold.
Your Daily Blend of Entertainment News
Thank you for signing up to CinemaBlend. You will receive a verification email shortly.
There was a problem. Please refresh the page and try again.