What's The Proper Thunderstorm Music?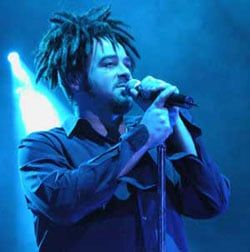 It's raining outside. Noah's Ark day thirty-eight level rain too, not some whimpy droplets of condensation. I'd even call it a deluge. The wind is punish-fucking my bushes, maybe even crying Mary, and the thunder and lightening are more boisterous than twenty world class drag queens gyrating and belting out the lyrics to Amii Stewart's "Knock On Wood." Fierce.
My second grade teacher would probably have long advised me to seek cover in a basement or retro bomb shelter, but I'm riding this bitch out in the name of scientific discovery. You see: the weather alters our moods, which in turn alters the type of music we find most satisfying. On board with the crux of this thesis? Alright, then let me explain a little further. Let's say it was hot outside, not wet and miserable. Well, I'd be at the bars praying for disposable pop music to more easily facilitate my desire to rub my middle against the lady lumps of some nameless alcoholic Jezebel. I might also feel like grabbing a beer and awkwardly, white person grooving to a little classic rock, maybe Free's "All Right Now." Yeah, that'd be sweet.
But it's not a breezy summer evening. It's raining. And what musical choice does a little precipitation normally spur into action? Sad bastard music. A little Joni Mitchell. Maybe Counting Crows, or REO Speedwagon my girlfriend just dumped me so I'll belt out my melodramatic angst toward the heavens arena rock. But I've always contended those teary-eyed treasures are more suited for a drizzly day, a chilly atypical trickle of water throughout the evening. Actual storms are too chaotic and unpredictable for the steady, oh-God-why tambour of Adam Duritz's voice.
So, what the fuck am I supposed to listen to? I honestly have no idea. It seems like every single weather formation has its own songs: hot and humid ("Mustang Sally"), dreary and ominous ("Mamma's Little Helper"), cold and frigid ("I Wanna Ride The Zamboni"), and tornado-ey (Anything by Girl Talk)–but in the name of all things right and decent in this vicious world prone to climate changes, what's the proper soundtrack to an electrical storm?
I'm a goddamn music editor, and I have no idea. So, I decided to try a little experiment. For the next hour and a half, I'm cranking my iPod–to eleven–on random. As I go, I'll list each track, write a few notes, and give it an overall rating as to how well it plays along with the background of thunder and lightning. Ready? Then like Doug Benson in Super High Me, let's roll...
1) Avril Lavigne's Complicated: What? Why? Someone tell me where the wheel of iTunes fate was headed when it selected everyone's favorite little faux-punk? Okay, I got it. Maybe Steve Jobs was trying to tell me that regardless of whatever storms (or genres) alter the musical climate, pop music will always return to pre-packaged and disposable teen stars. Ahhh. Life makes sense again. Also, this song is god-awful, but I'm still strangely attracted to it–kinda like the riblets at Applebee's.
Overall Song Rating: 4 out of 10.
During A Storm Rating: 3 out of 10.
2) Tegan And Sara's Where Does The Good Go?: Ahhh, one of those sad bastard gems I was referring to earlier. I'm actually finding this pretty comforting. It reminds me of Grey's Anatomy, which, in turn, reminds me that even the world's nicest day wouldn't wipe that bitch glare off Meredith's face. Some things never change. Quick side note: my roommate and I once turned this on at full blast to wake up our other hung-over, trainwreck of a roommate at six twenty in the morning. He ran out of his room naked and stole the batteries out of my speakers.
Overall Song Rating: 8 out of 10.
During A Storm Rating: 8 out of 10.
3) Dee-Lite's Groove Is In The Heart: I totally forgot this song even existed. I wonder what ever happened to that redhead with the funky prints on her dress. Someone call VH1's Bands Reunited now. What the hell is that noise in the background? How much X was needed to think this far out of the box? I guess its unpredictability is sorta reminiscent of an electrical storm, but mostly, it's just making me want to smoke pot. I've got a hookah, if anyone has some green.
Overall Song Rating: 5 out of 10? I guess.
During A Storm Rating: 5 out of 10.
4) Green Day's Basket Case: God, Green Day was awesome back when they were three punk kids looking to hump MILFs, destroy mailboxes, and drink cheap beer. Screw taking an active interest in current affairs. "Sometimes I give myself the creeps." What a great line. I'm not sure how this fits into the non-typhoon going on outside my house, but I'm digging the white, middle-American rebellion vibe permeating past my foosball table and nestling into the fake trees I bought at IKEA.
Overall Song Rating: 7 out of 10.
During A Storm Rating: 7 out of 10.
5) The Guess Who's No Time: Give me the Guess Who. They have the courage to be drunken buffoons, which makes it all poetic. -Phillip Seymour Hoffman playing Lester Bangs in Almost Famous. I'm not sure what else to say about this song, other than that it's the fucking buzz, which is also from Almost Famous. Jesus, anymore blatant thievery from that film, and I might have to pay Cameron Crowe. And you can tell Rolling Stone Magazine, my last words were.....I'm on drugs!
Overall Song Rating: 8 out of 10.
During A Storm Rating: 8 out of 10.
6) Canned Heat's Going Up The Country: Wow, the first song which not only doesn't fit with the rain storm but makes it all laughable. Why do all Canned Heat songs sound the same? And keep in mind, I'm speaking from the well-informed prospective of only having "Going Up The Country" and "On The Road Again" on my iPod. Did they have any other songs? Does it even matter? I sort of like ignorantly assuming the band's only objective was getting people to drive toward the country–like a modern day Pastoral movement–except with less shepherds.
Overall Song Rating: 9 out of 10.
During A Storm Rating: 7 out of 10.
7) Backstreet Boys' Larger Than Life: I know I'm going to catch some shit for this, but "Larger Than Life" is the best space-themed, gaudy, over-the-top adrenaline-fueled pop song ever sung by a group of effeminate males (Bowie didn't have other lead singers) ever. I hope my friends play "Larger Than Life" as my casket's being lowered into the ground when I die a premature death from lung cancer, eating hotdogs everyday, and car surfing.
Overall Song Rating: 8 out of 10.
During A Storm Rating: 8 out of 10.
8) Jeff Buckley's Lilac Wine: Something about Jeff Buckley crooning to Nina Simone while Satan throws bolts of electricity at my house is bizarrely reassuring. This whole thing feels dangerously close to jumping the shark, but right now, it's poorly balancing on the threshold of comforting and ridiculous. And my screen door just slammed. I can't do Jeff Buckley anymore. His sensual voice is mocking the colossal predicament my poorly-constructed house currently finds itself in.
Overall Song Rating: 7 out of 10.
During A Storm Rating: 2 out of 10.
9) The Monkees' Cheer Up Sleepy Jean: Why do the Monkees get ridiculed so much? They're good clean fun. Yeah, they didn't play their own instruments or really do anything creatively, but neither do half the popular musicians today. I'd never insinuate they were The Beatles light, but there's a place for feel-good dreamers in the world. Maybe not during this hurricane, though.
Overall Song Rating: 7 out of 10.
During A Storm Rating: 5 out of 10.
10) Sheryl Crow's The First Cut Is The Deepest: The first lightning bolt to a house is probably the deepest too. Anyone remember when Taylor Hicks covered this song on American Idol? It was fucking awesome. Soul Patrol, baby! I don't even know how to feel about this song right now, except that I'm glad it's not "Soak Up The Sun." Also, who the fuck hurt this poor girl so badly? She'll try to love again? Kind of makes Alanis Morrissette seem like a silly little girl.
Overall Song Rating: 6 out of 10.
During A Storm Rating: 5 out of 10.
11) Styx's Come Sail Away: Styx only caught a bad rap because most critics are cynical assholes.- that kid in Big Daddy. I'm a critic and a cynical asshole, but I love me some Styx. If you don't like Dennis DeYoung and Tommy Shaw and what's his face, watch the first episode of Judd Apatow's Freaks And Geeks. Best television usage of "Come Sail Away" ever. I'm kind of digging this song right now, but that may have something to do with a daydream I just had where my little cottage lifted off its foundations—and I sailed away to Vegas.
Overall Song Rating: 8 out of 10.
During A Storm Rating: 9 out of 10.
12) Bruce Springsteen's Merry Christmas Baby: This is a little early to start blaring festive music–even for me. Great song, though.
Overall Song Rating: 7 out of 10.
During A Storm Rating: 2 out of 10.
13) Steven Curtis Chapman's Dive: It's a little early in the game to come crawling back to Jesus, but if a tidal wave engulfs my house, I'll scream out a cover-my-ass forgiveness prayer. This song is actually pretty sweet. I know it has that icky Christian tag associated with it, but if I can listen to George Michael croon about dudes, I can get on board with a lovesong about a carpenter. I guess.
Overall Song Rating: 7 out of 10.
During A Storm Rating: 6 out of 10.
14) Great White's Once Bitten, Twice Shy: This is a bad omen. It has to be. The last time I willingly played this song, well, it was to mock ninety-some people who perished by act of God (or act of not planning out pyrotechnics). Nice little five and a half minute ode to banging groupies, if I do say so myself, though.
Overall Song Rating: 6 out of 10.
During A Storm Rating: 6 out of 10.
15) Oasis' Champagne Supernova: Where was I while you were getting high? Oh yeah, listening to "Groove Is In The Heart" like an hour ago. This monsoon is a real downer, then again I don't think anyone has ever optimistically discussed a monsoon (unless it wiped out a lot of wiggers). As much as people obsess over early Oasis, I still think (What's The Story) Morning Glory is underrated. The whole thing just flows into each other like a great piece of fiction or New Orleans. Too far?
Overall Song Rating: 8 out of 10.
During A Storm Rating: 8 out of 10.
I've just spent the last hour plus listening to random songs, and I honestly think I know less than when I embarked on this little journey. None of the music worked particularly well, and I basically just continued existing in my depressive, when is this lightning going to kill me trance. If you read all of this looking for answers, I'm afraid you wasted your time. I'm just confused, bitter, and still looking for weed.
I guess there's not any good thunderstorm music because you're not supposed to be thinking about music during thunderstorms. Maybe my second grade teacher was right. I should have sought shelter. Fuck it. As long as I'm here, I might as well listen to some more music. OK Go's "Here It Goes Again." This could work....
Enthusiastic about Clue, case-of-the-week mysteries, the NBA and cookies at Disney World. Less enthusiastic about the pricing structure of cable, loud noises and Tuesdays.
Your Daily Blend of Entertainment News
Thank you for signing up to CinemaBlend. You will receive a verification email shortly.
There was a problem. Please refresh the page and try again.