10 Best Bits Of Christmas From Non-Christmas Movies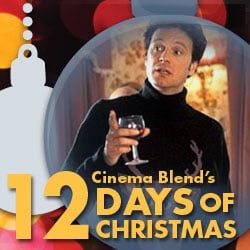 So you're too busy to get into the Christmas spirit by watching Christmas movies, huh? And even if you aren't, you've watched all the good ones so many times that you couldn't stand to see them again, no matter how hard Will Ferrell, Chevy Chase or Bing Crosby used to make you laugh?
Well how about just a scene or two of Christmas in movies that are otherwise 100% secular? You know, a hint of pine needles, a twinkle of lights, and then the movie movies on-- and you can go ahead and brave the mall, or bake your cookies, or whatever else you do during the holiday season. So to kick off Cinema Blend's 12 Days of Christmas, here are 10 great scenes from movies that aren't about Christmas at all-- or at least don't usually get aired ad nauseam on TBS this time of year. Check out clips from the movies below and see if they're enough to get you in the holiday spirit without turning you into a grinch just yet.
The opening of this movie is actually the coziest, Norman Rockwell Christmas scene you can possibly imagine--a snowy village, an actual horse-drawn sleigh, and an adorable family opening a box that contains a squirmy, adorable puppy. And after all the romance and "Bella Notte" of the movie, it ends on Christmas too, with Lady and Tramp's puppies taking their first Christmas photo. Say it with me now: Awwwwww. Even though this Disney classic may verge so close to sentimentality it may as well be a Christmas movie for some of you, it's a tried and true favorite as far as I'm concerned, and a little bit of Christmas where you don't expect it. The clip below shows the end of the movie, where even Jacques and Trusty get to be part of the family.
You didn't think Regina George would let a holiday go by without making it all about her, did you? Even though this scene is probably a perennial favorite for Lindsay Lohan fans nostalgic for the good old days, but it's also just straight-up hilarious on its own terms, like the rest of the movie. Careful popping in the DVD for just this scene, though, because you'll probably find yourself watching the whole thing anyway.
It looks like the perfect Christmas party-- everyone's well-dressed, there's lots of food and drink, and that handsome Wall Streeter is even getting into the spirit by wearing a pair of reindeer antlers on his head. But, uh, the Wall Streeter is Patrick Bateman, he's a killer yuppie, and all you have to do to figure that out is listen to his amazingly hollow "Have a holly jolly Christmas." I don't care how fun this party looks, or how hilarious that pig is-- that guy is creeping me out. I recommend we get outta here.
It's the movie that gave us one of our most iconic Christmas carols, but Meet Me in St. Louis spans many different seasons in the life of the Smith family. Christmas that year is melancholy, since the family knows they must leave St. Louis for New York, so Esther (Judy Garland) tries to cheer up her little sister Tootie by singing in the way only Judy Garland really could. We think of "Have Yourself a Merry Little Christmas" as the usual sappy Christmas ballad, but if you listen to the lyrics, that shit is bleak. Take a second look with the clip below.
They just don't throw office parties like they used to (unless you're on The Office I guess). Though The Apartment usually takes the attitude that working in an office is soul-deadening and depressing, the insurance company where Jack Lemmon and Shirley MacLaine work knows how to throw a wicked rager. What happens to both of them during the party is a downer, but the one-minute clip of the celebration below is pure Christmas spirit.
It's kind of the opposite of The Apartment, in that the whole thing is really light-hearted until Christmas rolls around. Frank Abagnale (Leonardo DiCaprio) has been hopping the globe, forging checks and evading the cops, but when he returns home during the holiday and realizes his family has moved on without him, the whole adventure doesn't seem worth it anymore. It's a melancholy scene, but it nicely captures that little bit of sadness that's usually lurking somewhere around the holidays (Charlie Brown Christmas, anyone?)
A movie that spans so much time in the lives of its characters really wouldn't be complete without a Christmas scene, and while the New Year's scene is more memorable, Christmas with P.T. Anderson's characters is guaranteed to be interesting as well. We don't get to see what Dirk Diggler gets Amber Waves for the holiday, or who Rollergirl spends it with, but we do see Buck Swope's life change when he goes in for a Christmas donut and walks out covered in blood. Unfortunately this scene is nowhere to be found on the Internet, but the trailer below should bring back enough memories of the movie to make you go out and rent it your damn self.
Special thanks to CB Games Editor Pete Haas for remembering this classic Bond moment, and perhaps Denise Richards' finest hour in the movies. When a movie has a character named Christmas Jones, the jokes write themselves really. For James Bond I'm sure this moment, at the very end of the clip below, really is the most wonderful time of the year.
Monty Python never really requires any introduction, and that goes double for Meaning of Life, the irreverent troupe's attempt to explain what it all means in their own terms. So just look below to revel in the film's grand finale, which explains that in heaven, it's Christmas every day, and the women have giant fake breasts that are literally made of plastic. Joy the world, indeed.
OK, this scene technically does not take place on Christmas-- but it's on New Year's, which is technically included in the 12 days of Christmas. And Mark Darcy's reindeer sweater is Christmas gear for the ages, and his ex-wife left him on Christmas day, and in the spirit of Bridget Jones, we're fudging the rules here a little bit. Plus doesn't that opening scene of the New Year's party capture pretty much everything that's awkward and horrible about the holidays? The trailer below includes much of that first scene, including Mark's iconically awful sweater.
For more of Cinema Blend's 12 Days of Christmas click here.
Your Daily Blend of Entertainment News
Staff Writer at CinemaBlend