10 Big Golden Globes Winners And Losers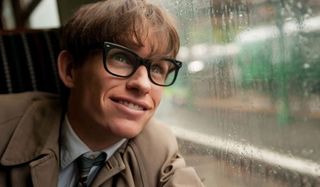 There are many different award shows that pop between the end of any given year and the Academy Awards, but fewer are seen as more significant than the Golden Globes. The winners selected by the Hollywood Foreign Press Association are often considered by analysts to be a strong indicator of what we may see happen come Oscar time, and this year was certainly no different. We saw some big moves and surprises during the 72nd annual show tonight, and it has painted an interesting picture for the 2014 awards season going forward.
Now that the dust has settled and all of the results are in, it's time to look at the big winners and losers of this year's Golden Globes. Who or what gained the most momentum? Who or what lost the most? Read on to find out!
Winner: The Grand Budapest Hotel – Best Picture - Comedy/Musical
After missing out on Best Screenplay, Best Director, and Best Actor – Comedy/Musical, things were looking quite bleak for Wes Anderson's The Grand Budapest Hotel at the Golden Globes tonight – but that all changed when the Best Picture – Comedy/Musical award was announced. Birdman was certainly considered the frontrunner – especially because it had beaten Anderson's movie in two of the three earlier categories – but in the end it was the quirky European-set dramedy that wound up taking home one of the biggest awards of the night. It's true that the film still does face incredible competition for Best Picture at the Academy Awards (most notably from Boyhood), but tonight definitely made the picture look like a stronger contender. Will it be able to pull it off? We'll have to just wait and see.
Loser: Selma – Best Picture - Drama
Ava DuVernay's Selma was unquestionably one of the most shocking and powerful films to be released in 2014, and it did get one big win at the Golden Globes tonight thanks to its success in the Best Original Song category, but the film took a big hit tonight where the Best Picture race is concerned. Boyhood's gain is Selma's loss, and this could wind up being a considerable momentum shifter. It's tremendously hard to argue with the Martin Luther King Jr. biopic's case - as it's not only an amazing movie, but one that is being released at a very important point in time – but at the same time it's not hard to see the film's miss tonight as having a possible impact on its Academy Award chances.
Winner: Michael Keaton (Birdman) – Best Actor - Comedy
Because of the way that the Golden Globes categories are laid out, it's hard to precisely say how Michael Keaton would have done in direct competition with Best Actor – Drama winner Eddie Redmayne, but it's still practically impossible not to see this Birdman win as a good sign for Keaton's Oscar chances. There is a certain irresistible comeback nature to the actor's story, and this Golden Globe win helps him really stay in competition with the big performances in big dramas like The Theory of Everything and The Imitation Game. Keaton is still certainly competing in what can easily be considered 2014's tightest race, but this win shows that he is still very much in the game. We're excited to see how it plays out next month.
Loser: Benedict Cumberbatch (The Imitation Game) – Best Actor - Drama
In this year's awards race, there is no category with stiffer competition than Best Actor, and while Michael Keaton and Eddie Redmayne got some big momentum tonight, one can argue that tonight's events hurt Benedict Cumberbatch's chances more than anyone else's. Things certainly don't look great for Nightcrawler's Jake Gyllenhaaal or Selma's David Oyewolo either, but Cumberbatch's turn in The Imitation Game has been touted as an Oscar frontrunner since the Toronto International Film Festival, and missing out on a Golden Globe is not a good sign for him. Cumberbatch obviously isn't totally out of the race at this point, as the Academy Awards have a completely different voter pool, but one can argue that his position has been weakened.
Winner: Eddie Redmayne (The Theory of Everything) – Best Actor - Drama
Going into tonight's Golden Globes ceremony, many saw the key head-to-head matchup being Eddie Redmayne's The Theory of Everything turn going up against Benedict Cumberbatch's The Imitation Game performance, and at the end of the event it was Stephen Hawking who found himself victorious over Alan Turing. Redmayne has been getting Oscar buzz ever since The Theory of Everything debuted at 2014's Toronto International Film Festival, and now that buzz is starting to turn into actual trophies. Academy voters obviously may still look in a different direction when it comes to the Oscars, but the fact that Redmayne got smiles from the HFPA is a feather in his cap and a sign that he could wind up taking the stage and getting handed a gold statue from Cate Blanchett next month.
Loser: The LEGO Movie – Best Animated Feature
Phil Lord and Chris Miller's The LEGO Movie was one of the most critically-beloved films of the year, but tonight the Hollywood Foreign Press Association showed it no love. Things have looked good awards-wise for the animated film due to the fact that 2014 is a year without an entry for Pixar, but now How To Train Your Dragon 2 has entered the game as a potential spoiler candidate. As I noted in my piece about the loss, it's very possible that the Golden Globes snub comes as a result of the movie reflects the fact that it didn't translate well overseas, but ultimately what it really shows is that The LEGO Movie might actually have some stiff competition at the Oscars.
Winner: Amy Adams (Big Eyes) – Best Actress - Comedy
Julianne Moore's win tonight for her part in Still Alice only further confirms suspicions that she will walk home with the Best Actress Academy Award this year, but in a conversation purely about momentum one has to give attention to Amy Adams. The Big Eyes actress hasn't gotten a ton of buzz about her role in the Tim Burton film, but this win could suggest that analysts have been undervaluing her. In the past, voters have certainly shown an appreciation for biopics, and despite its Golden Globe categorization the film really does have plenty of drama for Adams to work with. The Best Actress category is perhaps the weakest in this year's Oscar field, and with the award season power of Harvey and Bob Weinstein behind her, Amy Adams could find herself receiving acting's highest honor in February.
Loser: The Imitation Game - Best Motion Picture - Drama, Best Screenplay, Best Supporting Actress, Best Original Score
That's right: Benedict Cumberbatch's bad night was only one part of a much worse night for director Morten Tyldum's The Imitation Game. Including the Best Actor – Drama category, the film was up for five awards this evening and walked away completely empty handed. One could argue that the movie's strongest category is the Best Actor slot at the Academy Awards, but the big swing and miss tonight sincerely lowers its statistical chances in any other major category as well. It's true that Oscar voters have a long history of really loving World War II-era period dramas, which means that the film's aesthetic style could lead to a few technical awards like costumes and production design, but the Alan Turing biopic now looks like a much weaker contender the major categories.
Winner: Boyhood – Best Picture - Drama
It may seem a bit redundant to say that the receiving the Best Picture – Drama award at this year's Golden Globes was a big win, but in the case of Richard Linklater's Boyhood that's certainly worthy of saying. The 11-years-in-the-making movie has been considered an Oscar frontrunner for months now, and this huge win only further confirms its strong standing. The movie is absolutely amazing and awards voters are clearly impressed with the effort that went into making the movie, and that fact is being reflected in numerous big wins. If the Oscars wind up matching the Golden Globes, this may be the first year since 2011 that Best Director and Best Picture go to the same feature. At this point it's hard to argue against it.
Loser: Foxcatcher – Best Picture – Drama / Best Actor / Best Supporting Actor
It's true that Bennett Miller's Foxcatcher never really had very strong odds at being a big player in this year's Best Picture race at the Oscars, but this was a bad night for the film simply because of how it performed in the acting categories. It was bad enough that Channing Tatum wound up not getting attention for his gripping portrayal of Mark Schultz, but both Mark Ruffalo and Steve Carell getting shut down tonight severely hurts the film's chances going forward. It appears that J.K. Simmons has things pretty well wrapped up in the Best Supporting Category, and Eddie Redmayne's win gives him a distinct edge – and that all points towards Foxcatcher missing out on glory at the Academy Awards.
Assistant Managing Editor
NJ native who calls LA home and lives in a Dreamatorium. A decade-plus CinemaBlend veteran who is endlessly enthusiastic about the career he's dreamt of since seventh grade.
Your Daily Blend of Entertainment News
Thank you for signing up to CinemaBlend. You will receive a verification email shortly.
There was a problem. Please refresh the page and try again.