10 Emmy Nominees Who Deserve To EGOT Soon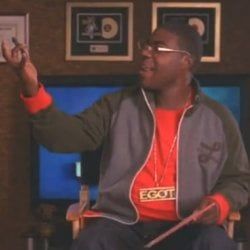 At this Sunday's Emmy Awards plenty of familiar faces will be duking it out for prizes, as the continued crossover between television, movies and the stage mean that your favorite movie stars win Emmys before they get Oscars and that, somehow, we live in a world in which Scarlett Johansson has a Tony (no, she really does). But you know what all this crossover means, right? More stars than ever are eligible for the coveted EGOT.
If you're not familiar with acronym EGOT, you clearly missed Tracy Jordan's quest on the last season of 30 Rock to win an Emmy, Grammy, Oscar and Tony Award. Only ten people have won all four, among them Whoopi Goldberg, Audrey Hepburn, Mel Brooks and Mike Nichols; Goldberg was the last person to pull off the feat when she won a Tony and a Daytime Emmy in 2002, and there are plenty of people out there who have won three of the four and are just waiting for their chance to swoop in and snatch the EGOT crown.
And among them are some of this year's Emmy nominees! I took a look through this year's crop of nominees and picked both the people who are likely to EGOT soon and the ones I'd like to see do it, either because they're totally overdue or it'd just be fun to see them do as many different things as possible. The picks are limitless, but I tried to stick to people who seem like they can actually pull it off, because they're either young or talented enough-- or, in one case, because they're Don Draper. Check out my picks below, give your suggestions in the comments, and see if some of these guys get even closer to the EGOT by winning an Emmy during the broadcast this Sunday.
Prom King: Michael Giacchino
Still Needs: Tony
[Nominated this year for Outstanding Music Composition for A Series, Lost]
Chew on this-- if Michael Giacchino wins an Emmy for Lost this Sunday-- and it seems incredibly likely he will-- he'll have won the Emmy, Grammy and Oscar all in 2010. If only someone had gotten him to write music for a Broadway show he could have been the first person to EGOT within a single year. Though Giacchino has no Broadway experience thus far, his willingness to work almost constantly and his youth-- he's 42!-- practically guarantee he'll get there. Anyone who's been dreaming of Lost: The Musical, now's the time to get that ball rolling.
Surprising Underachiever: Neil Patrick Harris
Still Needs: Grammy, Oscar, Tony
[Nominated for Outstanding Supporting Actor in a Comedy Series, How I Met Your Mother]
He's known as the man of many talents, to the point that he's hosting a different awards show every time you turn around, but here's NPH's odd secret: until last Saturday's Creative Arts Emmys, when he took home statues for hosting the Tonys and for guesting on Glee, he had never won a single EGOT statue. He's got a long way to go before picking up his Oscar, Tony and Grammy, but maybe if everyone in the world believes he's already won the prizes, that'll help him actually make it happen?
Surprising Overachiever: Hans Zimmer
Still Needs: Emmy, Tony
[Nominated this year for Outstanding Music Composition for a Miniseries, Movie or a Special (The Pacific)]
The composer who seems to put out an Oscar-worthy film score every year is obviously a titan at the movies, but he's up for his first Emmy this year as a composer on The Pacific, and in addition to 2 soundtrack Grammys has a Tony nomination from way back in 1998, for his contributions to The Lion King. He's one of a select group of EGOT contenders who have been nominated for all four prizes but still haven't won them all. Adding an Emmy this year means it'll just require a swing back through Broadway to take it all.
New Kid: Lea Michele
Still Needs: Emmy, Grammy, Oscar, Tony
[Nominated this year for Outstanding Lead Actress in a Comedy Series, Glee]
The girl who came from a Broadway background to take television by storm on Glee seems a lot like her character Rachel Berry at times-- determined to take all the prizes no matter what it takes. She'll actually be celebrating her 24th birthday the night of the Emmys, and though she's likely to lose for Outstanding Lead Actress in a Comedy, it'll just be the first step in what seems like an inevitable road to EGOT glory.
We Can Dream: Jon Hamm
Still Needs: Emmy, Grammy, Oscar, Tony
[Nominated this year for Outstanding Lead Actor in a Drama Series, Mad Men]
No, he's never been nominated for anything but an Emmy. No, we don't really even know if he can sing. But if Tracy Morgan can angle for an EGOT, dammit, so can Don Draper. As he starts a movie career he'll find a perfect Oscar-worthy role eventually, and as for the Tony and Grammy… well, anyone can take singing lessons, right? Work with us here Jon. Make this happen.
You Mean She Hasn't Already Done It?: Glenn Close
Still Needs: Oscar, Grammy
[Nominated this year for Outstanding Lead Actress in a Drama Series, Damages]
What's crazy is not that Glenn Close has won three Emmys and three Tonys and has been nominated for three Grammys, but that she's been nominated for five Ocsars, and hasn't won a single one. Seriously, what world is this? This year's Emmys won't do anything for Close's chances one way or another, but I like to assume the longer she's on Damages the more likely she is to get that one great movie role to finally get her the Oscar- and then crank out a children's audiobook to get the Grammy out of the way.
You Mean He Hasn't Already Done It?: Randy Newman
Still Needs: Tony
[Nominated (and won) this year for Outstanding Original Music and Lyrics, Monk]
The ubiquitous singer and songwriter has fielded no fewer than 17 Oscar nominations (one win), 12 Grammy nods (four wins) and three Emmy nominations that were all wins, including this year's statue for the song "When I'm Gone" from Monk. Like his fellow musicians Hans Zimmer and Michael Giacchino, he just needs to make that pivotal transition over to Broadway to make it happen-- though given how popular jukebox musicals are these days, and how many Randy Newman songs there are to choose from, it seems like that could happen any day now. He and Giacchino may be in a race to the death to be the next EGOTer overall.
The Quiet Threat: Michael Emerson
Still Needs: Grammy, Oscar, Tony
[Nominated this year for Outstanding Supporting Actor in a Drama Series, Lost]
Emerson's only a proven winner at the Emmys, with two statues to his name, but he did significant stage work before blowing up on Lost, and have you heard his voiceover work on Creating Synthetic Life on the Science Channel? That's an audiobook Grammy just waiting to happen. Given the relatively low profile he keeps in regular life, I can easily imagine him snagging a Tony and a Grammy then suddenly, 10 years down the road, being nominated for a Best Supporting Actor Oscar for playing some creepy villain. He'll have pulled off the EGOT and won't have have even noticed-- just like Ben Linus might do.
Just Waiting For the Right Oscar Bait, Male: Marc Shaiman
Still Needs: Oscar
[Nominated this year for Outstanding Writing for Variety Music or Comedy Special, 82nd Annual Academy Awards]
He's been too busy the last few years working as the musical director of the Academy Awards to be able to be nominated for one, but the composer is just one Best Original Song win away from being the next EGOT champ. His last nomination was for "Blame Canada" from the South Park movie, and really, it's such a shame that song didn't win that we might just pretend he's done it anyway. Shaiman, you can be an honorary EGOT until the real thing finally pulls itself together.
Just Waiting For the Right Oscar Bait, Female: Lily Tomlin
Still Needs: Oscar
[Nominated this year for Outstanding Guest Actress in a Drama Series, Damages]
No, her movie career isn't what it used to be, and she's more famous movie-wise for shouting at David O. Russell on the I Heart Huckabees set than for any actual performance. But remember how good she was in that movie, not to mention how funny she and Meryl Streep were together in A Prairie Home Companion? It's definitely not too late for America's funnylady to put in one more great screen performance and round out her collection of prizes.
Staff Writer at CinemaBlend
Your Daily Blend of Entertainment News
Thank you for signing up to CinemaBlend. You will receive a verification email shortly.
There was a problem. Please refresh the page and try again.