10 Famous Actors Who Tried Directing And Crushed It The First Time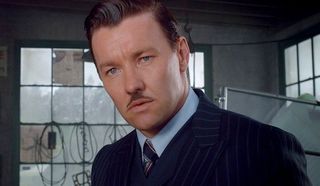 Later this week, the mystery thriller The Gift arrives in theaters. Aside from getting fantastic reviews, the film also marks the feature directorial debut of actor Joel Edgerton. He's helmed at couple of shorts, but this is his first go round in the big chair for a full-length movie. (Edgerton also wrote the script, but has more of a history with that side of things, including coming up with the story for the 2014 post-apocalyptic joint The Rover.)
With this release, Edgerton joins the long list of actors who have moved from in front of the camera to behind. As The Gift is getting high marks from critics (our own review gave the film four out of five stars) and looks like it's going to wind up being well regarded, we thought we'd take the opportunity to look back and examine the directorial debut of some other actors who killed it their first time out of the gate.
Tom Hanks—That Thing You Do
After starting out in comedies like Bosom Buddies, Bachelor Party, and Splash, Tom Hanks went on to become one of the most celebrated actors in Hollywood. With multiple Oscars in his trophy case, just adding his name to your movie increases the prestige factor a few degrees. In 1996, he made his feature directorial debut with That Thing You Do (which he also wrote). Following a small town band on the road to success in the 1960s, the film turns a critical and satirical eye on show business, wrapped up in a light and fluffy story about friendship, and Hanks manages to skirt cliché and deliver a sweet, delightful debut. He only has one other directorial feature to his name, 2011's modestly received Larry Crowne.
Robert Redford—Ordinary People
By 1980, Robert Redford already had 20 years of on-screen acting credits on his resume, but he had long harbored the desire to direct. Well, he got his chance with Ordinary People, a drama about the dissolution and disintegration of an upper-middle-class family, the Jarretts, after the death of their son. And what at debut it was. Not only was the film heralded as one of the best movies of the year, it walked away with a nice assortment of Oscar hardware, including a statue for Redford as Best Director. Though he continues to direct, and act in movies like All Is Lost and Captain America: The Winter Soldier, not to mention he founded the Sundance Film Festival, none of his subsequent efforts have topped that first one.
Charles Laughton—The Night Of The Hunter
Though it was not a critical or popular success when it was first released in 1955, Charles Laughton's The Night of the Hunter has continued to grow in esteem and find new fans who recognize it as one of the most viscerally frightening movies of all time. Which isn't bad considering that Laughton, making his debut behind the camera here, would never direct another film, though he did go on to appear in more, including Spartacus, before his death. With an influence that is still felt today, Hunter is a combination of Expressionist horror and film noir stylistics that still features one of the all time great villainous performances in Robert Mitchum's Reverend Harry Powell.
Rob Reiner—This Is Spinal Tap
Starting off your career as a director with a movie that has become renowned as one of the funniest, most original comedies of its time, one that has spawned countless imitators, has to be a pretty good feeling. That's just what happened to former All in the Family star Rob Reiner (he's come so far from his days playing Meathead) and his initial foray into directing, the mock rockumentary classic This is Spinal Tap. The improv heavy movie follows over-the-top exploits of the eponymous hard rock act comprised of Christopher Guest, Michael McKean, and Harry Shearer, and though this was his first, Reiner has gone on to churn out beloved movies, including Stand By Me, The Princess Bride, and When Harry Met Sally, among others.
Dennis Hopper—Easy Rider
As an actor, Dennis Hopper was a countercultural icon, and his directorial debut, Easy Rider, showed the not-always-pretty, free-wheelin', on-the-road lifestyle. A touchstone for an entire generation, and beyond, the image of Hopper, who also starred, and Peter Fonda living life on their choppers came to symbolize freedom. The film caught the attention of the nation and dug into the cultural landscape of the late 1960s, including the rise and fall of the free love generation, drug use, communal living, and the tensions that were at war within the culture at the time. Hopper would go on to direct notable movies like The Last Movie and Colors, and not-so-notable movies like Chasers (yeesh), but he would never again hit the same highs as Easy Rider.
Sarah Polley—Away From Her
Still likely best known for her acting roles in films like Go, Splice, and Dawn of the Dead, Canadian born Sarah Polley has made waves as a director. Her first effort, 2006's drama Away From Her, based on an Alice Munro short story and chronicling the struggles of an older couple being torn apart by the effects of Alzheimer's Disease, debuted at the Toronto International Film Festival, won tons of critical praise, and marked Polley as a director to keep in eye on. She followed that up with the dramatic comedy Take This Waltz starring Seth Rogen and Michelle Williams in 2011, and the acclaimed documentary Stories We Tell in 2012, which dug into the secrets and storytelling and mythmaking inherent in her own family. She has a long future ahead of her behind the camera, and we can't wait to see what she does next.
Harold Ramis—Caddyshack
If you turn out just one movie as beloved as Caddyshack in a career, you're doing pretty well. After all, we're still watching Harold Ramis' debut and quoting it with our buddies 35 years later. However, the former National Lampoon and SCTV performer wasn't done with his directorial output, not by a long shot, and though we lost him too soon last year, he left a trail of comedy classics in his wake. He followed up his Saturday Night Live alum-stocked golf comedy with National Lampoon's Vacation, Groundhog Day, and more, not to mention that he also continued to act, showing up in movies like Ghostbusters (you may have heard of that one) and even small roles in recent films, including Knocked Up and Walk Hard, connecting with a whole new generation of comic filmmakers he helped inspire.
Kevin Costner—Dances With Wolves
Remember that year Kevin Costner won all the Oscars? Remember when his directorial debut, 1990's Dances With Wolves, beat out Goodfellas for Best Picture? Goodfellas! And not only did Kevin Costner beat out Martin Scorsese for Best Director, check out the rest of his competition that year, you may recognize some of these names: Francis Ford Coppola (The Godfather Part 3), Stephen Frears (The Grifters), and Barbet Schroeder (Reversal of Fortune). Not only did Costner decide to direct his first film, he decided to kick everyone's ass while he was at it. Though he made a splash right out of the gate, his follow-ups haven't fared so well. In 1997 there was the post-apocalyptic mailman saga The Postman, which has largely been remembered as a punch line, and 2003's western Open Range, which is a solid gritty genre picture, if not widely recognized. Fortunately for Costner, he still has his lucrative acting career to fall back on.
Danny DeVito—Throw Momma From The Train
Most recognized as an actor in the likes of Taxi, One Flew Over the Cuckoo's Nest, and recently It's Always Sunny in Philadelphia, Danny DeVito kicked off his new career as a director in 1987 with the blackly comic riff on Alfred Hitchcock's Strangers on a Train, Throw Momma from the Train, in which he co-starred with Billy Crystal and the late, great Anne Ramsey. From there he went on to a varied career behind the camera with the dramatic comedy The War of the Roses, family film Matilda, and even the crime biopic Hoffa, not to mention the criminally underappreciated Death to Smoochy. Lately he's mostly been directing shorts, though he does have a thriller called St. Sebastian in post-production, and we can always watch him as Frank on reruns of It's Always Sunny when we need a fix.
Ben Affleck—Gone Baby Gone
Though he has gone on to greater success for helming The Town and the Oscar-winning Argo, Ben Affleck's first feature film as director, 2007's Gone Baby Gone, laid the groundwork for a successful side-career just in case that whole playing Batman thing doesn't work out. And he got to put his little brother, Casey Affleck, in a movie. That has to earn him some points in the successful Hollywood version of a mother telling you to "let your brother play, too." The neo-noir crime story, based on the Dennis Lehane novel of the same name, Gone Baby Gone won a slew of awards, gathered near universal critical praise, and wound up on a bunch of best-of-the-year lists. Not only did it mark Affleck as a talent in a third area of filmmaking—in addition to his acting accolades, he also won an Oscar for writing Good Will Hunting—he used it as a stepping stone to even bigger things, including the upcoming Live by Night, another Lehane adaptation, and he'll reportedly take the helm on an as-yet-untitled solo Batman film. Not bad for a kid from Boston.
Your Daily Blend of Entertainment News
Your Daily Blend of Entertainment News
Thank you for signing up to CinemaBlend. You will receive a verification email shortly.
There was a problem. Please refresh the page and try again.