Teenage Tom Hanks Actually Predicted His Amazing A-List Career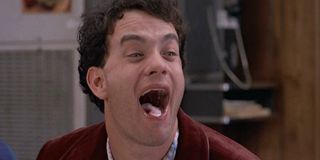 Some of us dream of fame, some of us go after fame, and then there are those of us, like Tom Hanks, who know beyond a shadow of a doubt that they will become famous. From the age of 18, Hanks knew he was going to make it Big, and we have physical evidence to prove it. Before he became an A-lister, Hanks wrote a letter to George Roy Hill, director of such classics as Butch Cassidy and the Sundance Kid and The Sting, and in this letter he predicted his worldwide success.
As noted in a report by NPR, the Library of the Motion Picture Academy in Beverly Hills, California, features a letter Hanks wrote to the illustrious filmmaker in response to watching The Sting. While he praises Hills's work, the purpose of this letter is to give him a heads up that he's going to be a big-time success one day. Hanks began the exchange by stating that it was only fitting that Hill discovered Hanks. Though the teen recognized he didn't have the build or captivating features of a Greek God, or the ability to grow a mustache, he figured that people would pay to see a movie featured him. But that's not even the best part. Hanks finished off the letter by writing:
And look at him now. Hanks, now 59, has been nominated for an Academy Award five times for his performances in Big, Saving Private Ryan, Cast Away, Philadelphia, and Forrest Gump, and he earned statuettes for the latter two. NPR has the full letter for you to peruse, but it's safe to say that his prediction came true, not to mention the fact that he's been in the running for awards alongside Redford and likely calls him Bob by now. Redford even followed in Hanks's footsteps in playing a man-vs-the-sea character in All Is Lost. (Ahem, Hanks earned a nomination, but Redford did not.)
Hanks recently filmed the latest installment of the Dan Brown-adapted movie series, Inferno, with director Ron Howard. The film shot in various locations, including Istanbul, Venice, Florence, and Budapest, and is now in the editing room ahead of an October 14, 2016 release. The film also stars Oscar-nominated, and Star Wars: Rogue One actress Felicity Jones, as well as Warcraft's Ben Foster, Jurassic World's Irrfan Khan, and X-Men: Days of Future Past's Omar Sy. Think our young Hanks here had "Hollywood franchise" on his acting bucket list?
Your Daily Blend of Entertainment News