Sarah Polley Will Adapt Fault In Our Stars Author's Looking For Alaska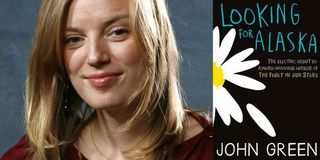 Earlier this month, John Green went from a YA Author to a serious force in Hollywood when The Fault In Our Stars, Josh Boone's adaptation of Green's widely loved novel, topped the box office with a whopping $48 million opening. And that's without the aid of major stars or giant nostalgia-driven robots. Naturally, it shouldn't surprise anyone that filmmakers are eying Green's other novels for inspiration, chief among them Sarah Polley.
EW reports Sarah Polley is now set to write and direct Looking For Alaska, a film based on John Green's debut novel of the same name from 2005. For his part, Green couldn't be happier about this development. He shared his joy on Twitter saying:
Looking For Alaska was not only Green's first novel but also his first New York Times best seller. At the center of this popular YA book is sixteen-year-old Florida native Miles Halter, whose decided in his junior year to switch from public school to boarding school, specifically Culver Creek Preparatory High School in Alabama. There he befriends a poor but brilliant classmate named Chip, and the mesmerizing and reckless dream girl Alaska Young. Young love, pranks, and growing up all play a part in Green's novel, and will likely be well-translated by Polley, who has shown a unique gift for vulnerability in her filmmaking.
For those unfamiliar with her, Sarah Polley is a Canadian actress best known for the Dawn of the Dead remake and the disturbing sci-fi thriller Splice. She helmed her first feature film in 2002, but gained major notice for her follow-up, 2006's Away From Her, which notably earned Polley a Best Screenplay nod at the Academy Awards. Next came the polarizing late-bloomer romance Take This Waltz, then the critically heralded documentary Stories We Tell, in which Polley blurred the lines of fact and fiction to tell the story of her own life and her mother's. Stories We Tell is now streaming on Netflix (opens in new tab).
If Polley is able to tell Miles' story with half the grace and insightfulness that she managed in her last film, John Green fans will have plenty of reason to look forward to Looking For Alaska.
Your Daily Blend of Entertainment News
Staff writer at CinemaBlend.