10 Great Movies About To Stream On Netflix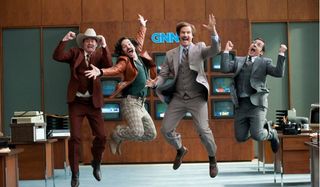 Whether you are sacking out on the couch and digesting your post-Thanksgiving meal, or just hunkering down with family members because the weather outside's getting rough, Netflix has you covered. The streaming video service is mixing up its offerings in December, dropping some key titles but adding some fan favorites that we have been waiting for for months now (hello, Ron Burgundy).
Make a note on your calendar, because these winning comedies, dramas, classic thrillers and holiday favorites will be available on Netflix in December. (Note that the service claims that dates and titles are subject to change. Some of these might be on Netflix by the time you read the list.)
Anchorman 2: The Legend Continues
It took years to get he news crew back together, but it was worth the wait. Will Ferrell steps back into the title role, but tackles the 24-hour news cycle in a biting satire of modern news channels like CNN and Fox News. Paul Rudd, Steve Carell and Christina Applegate return as the action shifts from San Diego to New York City. If you skipped it in theaters, be sure to stream it this month.
Romy & Michele's High School Reunion
In the heart of her Friends dominance, Lisa Kudrow teamed with the bubbly, beautiful Mira Sorvino for this delightfully ditzy take on life after high school. Specifically, Romy (Sorvino) and Michele (Kudrow) return to the scene of the crime for their high school reunion… and get deeper and deeper into trouble as they lie about what they've accomplished since graduation. Janeane Garofalo, Alan Cumming and Kristin Bauer co-star.
Almost Famous
Cameron Crowe's love letter to the touring rock band might be his best work (yes, I hear you, Say Anything fans). And I think it's because he writes it from the heart. Crowe started his career as a budding rock journalist. He was the "enemy," as young Patrick Fugit is labeled by the band he has been assigned to cover. But the movie speaks to having a passion for something in this world, and it features a scene-stealing performance by the late Philip Seymour Hoffman. Worth a stream just for his parts, alone.
Love Actually
A holiday classic with a very British twist, Love Actually has grown in popularity thanks to standout performances by Hugh Grant, Colin Firth, Keira Knightley, Liam Neeson, Laura Linney, Chiwetel Ejiofor, and the great Bill Nighy. The true ensemble piece captures everything that is right and wrong about the holiday season, with writer-director Richard Curtis bringing the perfect emotional balance that benefitted movies like Notting Hill, Bridget Jones' Diary and the fantastic About Time.
Crossroads
Back in the day, every pop star got his or her own movie… including Britney Spears. Crossroads happened before the shaved head, before the Madonna kiss, and before the comeback that would put Britney Spears back into the limelight she'd wasted away. It's not a good movie. But it is a gentle throwback to the early 2000s, when the promise of Britney was still sweet, innocent and admittedly cheesy – which wasn't so bad.
The Village
Long before M. Night Shyamalan became a walking punching bag, he still delivered moody and contemplative thrillers that adults could sink their teeth into. None of them lived up to the hype that was The Sixth Sense, admittedly, but movies like Signs and The Village had more than enough to recommend beyond their TWIST endings. For example, stream The Village and adore two outstanding performances by Bryce Dallas Howard and Joaquin Phoenix as members of a community fighting back against an unseen and dangerous force.
The Wolf of Wall Street
You might need to pause Martin Scorsese's epic ode to financial excess every couple of hours. It's long, and detailed, and excessive, but it features a handful of knockout performances, starting with Leonardo DiCaprio as corrupt stock broker Jordan Belfort. Wolf struck me as Scorsese's attempt to do for Wall Street what Goodfellas did for the Mafia. Watch it and tell me if he got it right.
Batman Returns
While the world waits for Ben Affleck's take on the Caped Crusader, Netflix allows you to go back and revisit Michael Keaton's acclaimed sequel in the Bat suit. Danny DeVito chews snowy scenery as the Penguin in Tim Burton's Batman follow up. But you really are renting this to see how Michelle Pfeiffer owns the slinky role of Catwoman – and to compare how she stacks up against Anne Hathaway's portrayal from The Dark Knight Rises.
The Muppet Christmas Carol
The Muppets make everything better… especially the holidays! With Jim Henson's puppets making a bit of a comeback thanks to two modern movies, now's as good a time as any to fire up on of their past hits. Let the kids enjoy the Dickens Christmas story with Kermit, Piggy and Gonzo standing in for classic Christmas roles. Also, Michael Caine plays Scrooge. What more could you possibly want?
As I Lay Dying
As I Lay Dying kicks off a month-long "Franco Frenzy," with four titles dedicated to the offbeat actor-director's output. Franco directs As I Lay Dying, adapting it from a William Faulkner novel. But you can springboard from this to Good People, Child of God and The Letter -- all starring James Franco. Plan your time accordingly. Make it a Franco-filled weekend.
Managing Director at CinemaBlend. ReelBlend cohost. A movie junkie who's Infatuated with comic-book films. Helped get the Snyder Cut released, then wrote a book about it.
Your Daily Blend of Entertainment News
Thank you for signing up to CinemaBlend. You will receive a verification email shortly.
There was a problem. Please refresh the page and try again.