10 Great Movies Netflix Is Adding On November 1st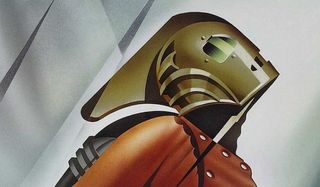 As we reported earlier today, there are some really fantastic films that will be no longer streaming on Netflix once the calendar switches over to November. But while you will soon no longer be able to watch classics like Butch Cassidy and the Sundance Kid or Apocalypse Now online, the good news is that the company has some awesome stuff coming your way next month.
The blog BestMoviesOnNetflix has posted a list of all of the films that will be coming to the online streaming service next month, and we are very happy to say that there are a number of fantastic titles that will soon be available. But which of the 10 stand out among the rest? Read on to find out!
The Rocketeer
Years before he teamed with Marvel Studios to bring us Captain America: The First Avenger, director Joe Johnston brought us a whole different kind of cinematic superhero in The Rocketeer. While a good deal pulpier and sillier than most modern day films with costumed heroes, the movie has a wonderfully age-less style (benefited from the fact that the story is set in the 1930s) and a fantastic cast that includes Alan Arkin, Jennifer Connelly, Timothy Dalton and Billy Campbell.
Kingpin
Peter and Bobby Farrelly were responsible for some of the funniest movies that came out in the 1990s. But while Dumb and Dumber and There's Something About Mary get most of the attention, it would be a crime to forget about their 1996 bowling comedy Kingpin. There are few films, if any, that better feature Woody Harrelson's incredible comedic talents, and it's supremely odd in that perfect Farrelly brothers way. Plus, it features Bill Murray sporting the world's worst comb-over – and who the hell doesn't want to rewatch that thousands of times?
Total Recall
Need to wash away all of the memories of Len Wiseman's Total Recall remake? Do so by catching director Paul Verhoeven's brilliant original from 1990. The effects haven't entirely held up too well in the last 24 years, but Arnold Schwarzenegger is still an utter and complete badass and a blast to watch fighting the oppressive upper class on Mars. Watch it on Netflix next month and see if you can't figure out the answer to the film's deepest mystery: is it all real, or just part of a virtual vacation?
Star Trek VI : The Undiscovered Country
I would imagine that most Star Trek fans out there are already in love with Netflix, as the streaming service already provides a number of the movies and television shows from the franchise, but next month the catalog is growing even bigger. Star Trek VI : The Undiscovered Country is going online next month, and in case you couldn't tell by the number in the title, this is one of the good ones. Not only does it provide a great Enterprise vs. Klingons scenario, it's also an incredibly smart story with shades of Shakespeare that go deeper than just its title.
Airplane!
It's rather depressing to think about the current state of the spoof genre, but it certainly helps to look back on the good ol' days. And the good ol' days don't get much better than 1980's Airplane!. The film is an unquestionable comedy classic, and deserves all the praise in the world if not just because it helped the world understand just how insanely funny Leslie Nielsen was (we will never stop missing him). Whether you've never seen it before or can recite every line, when the film hits Netflix next month you should give it a watch.
Dirty Rotten Scoundrels
There's a long history of con artist comedies in Hollywood, but there are few as great as Frank Oz's Dirty Rotten Scoundrels. The film is based on the winning premise of pitting Steve Martin against Michael Caine in a game of wits, and the results are absolutely hysterical. Both actors do some fantastic character work here as they fight over actress Glenne Headly (a delight by herself), and it all leads to a wonderfully clever conclusion.
Fatal Attraction
This list has been pretty heavy with more light-hearted, fun fare, so let's change gears, shall we? Let's talk a bit about women getting revenge with an ice pick! One of the most iconic films of the 1980s, Fatal Attraction is an entertaining thriller with both Glenn Close and Michael Douglas putting on incredibly memorable performances as a woman scorned and the man who scorned her, respectively. Just because Halloween will be over doesn't mean you can't watch a movie that will put a few chills down your spine!
Braveheart
Long before he was relegated to playing the villain in B-level action movies, Mel Gibson was an Academy Award-winning director, and arguably his greatest gift to the cinematic world was 1995's Braveheart. Telling the story of the William Wallace-led Scottish revolt against the English, the film won Best Picture, Best Director, Best Cinematography, Best Sound Effects Editing and Best Makeup for a reason: it's a massive, beautiful powerful epic. With a nearly three hour runtime, you'll probably have to make some time in your schedule for this one, but it's always worth it.
Cleopatra
Can you imagine a modern movie studio giving one of their projects a budget of $342 million? As ridiculous as that sounds, the folks at 20th Century Fox did just that when they made Elizabeth Taylor's Cleopatra back in 1963. Even if the main story of the film doesn't thrill you, it's worth seeing if not just because of its insane, incredible production design and spectacle level. Like Braveheart, this is another incredibly long movie, clocking in at three hours and 12 minutes, but it's time invested in one of the film industry's grandest productions.
Nebraska
Did you desperately want to see Alexander Payne's Nebraska during last year's Oscar season, but never got a chance to? Did you already see it, but really want to see it again? I have some pretty great news. The somber Midwestern dramedy – with its beautiful black and white photography and stellar performances – will soon be available to stream.Unlike all of the other movies mentioned on this list, which will be launching on Netflix on November 1st, you'll have to wait until November 8th before this one is available online. Still, it's very much worth the wait.
Your Daily Blend of Entertainment News
Assistant Managing Editor
NJ native who calls LA home and lives in a Dreamatorium. A decade-plus CinemaBlend veteran who is endlessly enthusiastic about the career he's dreamt of since seventh grade.