10 Great Movies That Opened In January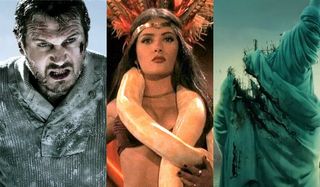 January is a rough month for movies. It's a time when all the titles that already hit the major markets in November and December are expanding their releases. It's a time that's also considered a dumping ground for plenty of films that we'll all forget about by the time the summer blockbusters roll around. But nobody ever thinks of January as the time we've all been waiting for.
However, there are a few movies that have broken this nasty cycle. While January 2015 is filled with much of the same — we're referring to Mortdecai, The Boy Next Door, The Wedding Ringer and Blackhat, the latter of which looks like this year's Jack Ryan: Shadow Recruit — there are some noteworthy films you would never have guessed is part of the January circuit because they're so good. To help disperse the depressing haze that lingers in movie theaters this month, here are 10 great January-released films, dating back to the 1980s.
The Grey (2011)
Box Office: $51,580,236
Why It Wasn't Terrible: It's Liam Neesons! It's Liam Neesons fighting those big-ass wolves! The Grey was one of those movies starring the apple of Key and Peele's eye that wasn't about somebody getting "tooken." Unless you count Neeson getting "tooken" by Mother Nature. Focusing on a sharpshooter flying a crew of Alaskan oil refinery workers back home after a grueling five-week shift, The Grey shows what happens when we are faced with a do-or-die situation in the wilderness. Dropping on January 2012, it dominated the box office that opening weekend, which also saw One For the Money, Man on a Ledge, Underworld: Awakening and The Lincoln Lawyer screening in theaters. While it went on to become one of the Neeson's most standout performances, it also earned the respect of critics and landed on many lists of the best movies of 2012.
Cloverfield (2008)
Box Office: $80,048,433
Why It Wasn't Terrible: Cloverfield certainly didn't kickstart the whole found-footage format, but it brought it back into popularity. As a giant Godzilla-like monster terrorizes New York City, we see what it's like for a group of friends to survive in this war zone through the camera lens of their handheld. You can either blame Cloverfield for making audiences sick to death of seeing found footage used all over the place in films like Chronicle, The Bay, The Last Exorcism, The Sacrament, As Above, So Below…we could keep on going. Or you could see the film as the one who made it awesome. Cloverfield also marks T.J. Miller's big-screen debut as one of the guys behind the camera. Now, he's one of the funniest and most successful comedians to emerge on the scene in recent years. Lord knows he was the best thing about Transformers: Age of Extinction.
12 Monkeys (1995)
Box Office: $57,141,459
Why It Wasn't Terrible: The world is devastated by disease. The vast majority of the world's population has been terminated. Humanity's only hope for survival is to send Bruce Willis back in time to 1990 and figure out where it all went wrong. Though the ingenious story was based on 1962's La Jetée, which focused on World War II instead of a plague, it was made something entirely its own when David and Janet Peoples wrote the script for 12 Monkeys. Opening in January of 1995, the film led Brad Pitt to earn an Oscar nomination for Best Supporting Actor and a win at the Golden Globes, while the work was also nominated for the Best Costume Design Oscar. Syfy is going to try and recreate the magic that was this hardcore sci-fi extravaganza with a new series this year, but nothing can top the original.
White Fang (1991)
Box Office: $34,793,160
Why It Wasn't Terrible: Ethan Hawke was a young man in his 20s when he set out into the wilderness for White Fang; it was only a few years after he appeared alongside Robin Williams in Dead Poets Society. Though it was no "Liam Neeson vs. wolves," it stills goes down as a beloved classic. Taking its story from the Jack London novel of the same name, White Fang sees a young boy traveling into the Alaskan wilderness in search for gold. Once there, he encounters a half-dog, half-wolf who's being cruelly treated by his owner. Upon rescuing the animal and nursing him back to health, the man forms a bond with the beast. Disney tried to recreate the success of White Fang with a sequel subtitled Myth of the White Wolf, but it didn't do so hot at the box office — it hit a little more than half of what the first earned during its opening weekend. Some things just don't warrant sequels.
Tremors (1990)
Box Office: $16,667,084
Why It Wasn't Terrible: When terrifying worm-like creatures start attacking people from underground, it's up to Kevin Bacon and Fred Ward to save the day. "No way these are local boys." It came in fifth at the box office during its opening weekend. Though, in its defense, The Little Mermaid and Back to the Future II were still making the rounds. Bacon's accent and dramatic running away from explosions may be goofy, and the dialogue may be just as cheesy, but Tremors has gone down in history as a sci-fi classic. You just can't beat the wonder of the practical effects used to create some of the "Graboids," A remake has been rumbling for a while at Universal, but these creative designs and production contraptions were what helped turn it into such a hit.
Down and Out in Beverly Hills (1986)
Box Office: $62,134,225
Why It Wasn't Terrible: A remake of Boudu Saved From Drowning, Down and Out In Beverly Hills sees a homeless man so depressed and down on his luck that he tries to commit suicide by drowning in the pool of a wealthy businessman. However, he is saved and brought in to live with the man and his family, though their lavish lifestyle doesn't intrigue the recovering man. Bette Midler is a hoot and a half in this film, playing the businessman's living-in-luxury wife. (We're still laughing over her bringing in the dog therapist.) She was even nominated for a Golden Globe for Best Actress in a Comedy/Musical, while the film as a whole was nominated for the Best Comedy/Musical category. Though, it didn't win either, Down and Out topped the box office during its opening weekend, besting the likes of The Color Purple, Murphy's Romance and Youngblood.
Varsity Blues (1999)
Box Office: $52,894,169
Why It Wasn't Terrible: Varsity Blues is a classic. Sure, it's not the most critically acclaimed film out there, but it's beloved by its fans and spawned a slew of inside jokes told by movie and sports lovers for years to come. Starring James Van Der Beek and the late Paul Walker, Varsity Blues takes audiences to Texas where high school football is king. When the star quarterback (Walker) injures himself, the hard-ass coach is forced to promote a benchwarmer (Van Der Beek). It's a position that will not only determine a division title, but it also holds the entire town's hopes. Thankfully, there's Ali Larter to provide some stress relief in that famous scene of her with the whipped cream. Chris Evans spoofed it in Not Another Teen Movie, only he added in a banana for fun. The film transcended its sports movie genre, connecting audiences more to the threads that binds a small community together and the pressures of growing up.
From Dusk Till Dawn (1996)
Box Office: $25,836,616
Why It Wasn't Terrible: What's better than a tatted-up George Clooney battling vampires alongside Quentin Tarantino? From Dusk Till Dawn is one of Roberto Rodriguez's most famous films, and it's also one of the best titles in the vampire horror genre. This is back when cinematic bloodsuckers used to transform into Buffy the Vampire Slayer-looking monstrosities at the drop of a hat and exploded in a bool of guts when you staked them. Not so much the glittery-skinned, heartthrobs of the night in Twilight and True Blood. This is also the movie in which Salma Hayek performed her famous "Dance of the Seven Wonders" (at least that's how I'm referring to it) in the vampiric strip club. The film has become a horror classic, and, much like with all classics, a remake was likely down the road. Thankfully, Rodriguez was behind the TV series that spawned from this property.
The Count of Monte Cristo (2002)
Box Office: $54,234,062
Why It Wasn't Terrible: Raise your hand if you remember baby Henry Cavill in The Count of Monte Cristo? He sure was a lot scrawnier than his Man of Steel-worthy build, though he wasn't the primary focus. Jim Caviezel of Person of Interest starred in this film, which was an adaptation of Alexandre Dumas' novel. When a handsome, young sailor is falsely but deliberately framed by his best friend in order to steal his lover away, he exacts a revenge scheme. This particular January had more than one good title hitting theaters, such as Ridley Scott's Black Hawk Down and Ron Howard's A Beautiful Mind, the latter of which expanded after its limited release in the previous December. But The Count still managed to emerge from the pack as one of the great films of all time.
City of God (2002)
Box Office: $7,564,459
Why It Wasn't Terrible: City of God was a surprise hit. This story of two young men chooses opposing paths in Rio de Janeiro was a limited release, but critics discovered and fell in love with it. Many praised the film as one of the year's best. The fact that January 2003 was a particularly dreary month in terms of movie releases could've also helped matters. City of God was nominated for four Oscars — Best Director for Fernando Meirelles, Best Adapted Screenplay, Best Cinematography and Best Film Editing. It was also nominated for Best Foreign Film at the Golden Globes, though it unfortunately didn't take home any statuettes in either ceremony. Peter Jackson beat our Meirelles for the director's win, but it's still an all-around impressive piece of cinema.
Your Daily Blend of Entertainment News
Thank you for signing up to CinemaBlend. You will receive a verification email shortly.
There was a problem. Please refresh the page and try again.